New data revealed by Sony indicates that most PlayStation Plus subscribers have yet to upgrade to the more expensive Extra and Premium tiers.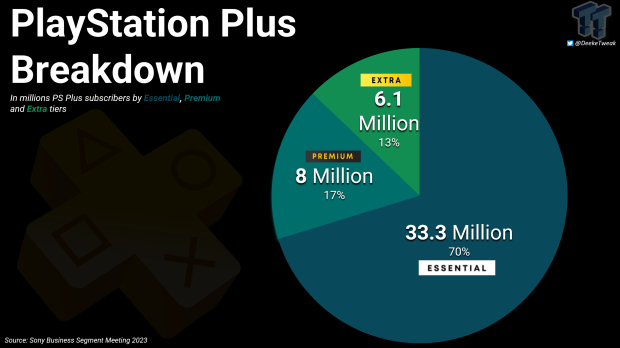 In a recent business strategy meeting, Sony highlighted quite a bit of info about the PlayStation brand. One interesting presentation slide revealed a breakdown of PlayStation Plus subscribers by each of the more premium tiers.
Sony confirms that its PlayStation Plus Premium tier is actually doing well, with 8 million Premium subscribers versus 6.1 million Extra subscribers. The Premium subscription, which offers access to hundreds of games as well as cloud streaming on consoles and PC, represents 17% of the total PS Plus userbase, with Extra making up 13%.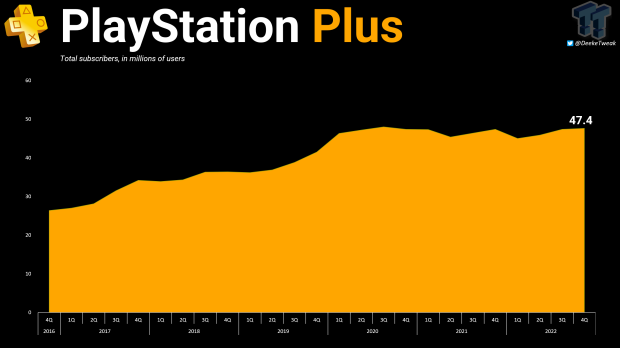 The vast majority of PlayStation Plus subscribers are still in the Essential tier. Based on Q4 figures provided by Sony, there are 33.3 million PS Plus Essential users that comprise 70% of the total subscription base.
We also have to wonder how much of these subscribers are new paying users, or at least new to the tiers. Remember that Sony had converted existing PlayStation Now subscribers over to PS Plus Premium before the new subscription rebrand.
Sony's carefully-structured pricing scheme is likely the main reason for the current tier split.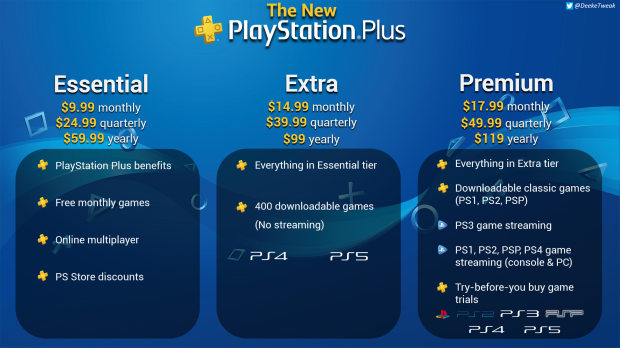 The company has situated PS Plus Premium as the most value-oriented tier out of the three options in terms of pricing and benefits. Premium is $119/year, which is only $20 more than a full year of Extra, and it comes with cloud game streaming functionality to both consoles and PC. Sony's Jim Ryan has also said there are plans to aggressively push into cloud gaming, and we think this could lead to PS Plus game streaming to mobile devices and/or Sony's rumored new Q-Lite handheld.
"Our new PlayStation Plus service has seen great reception among subscribers with 30% of our consumers choosing the new Extra and Premium tiers in just 10 months.
"In addition to the strong reception, we are seeing that players have a greater preference for our Premium tier, with more than half of higher-tier users opting for the best experience that PlayStation Plus has to offer," Sony Interactive Entertainment executive Eric Lempel said at the meeting.