Complete off-the-shelf PC builds for gaming and content creation have been a thing since the earliest days of home computing - although we didn't call it content creation back then. In 2023, all-in-one desktop PCs come in a range of flavors, and with Cooler Master being a mainstay for cases and cooling, it's now ready to unleash some pretty exciting all-in-one desktop PCs of its own.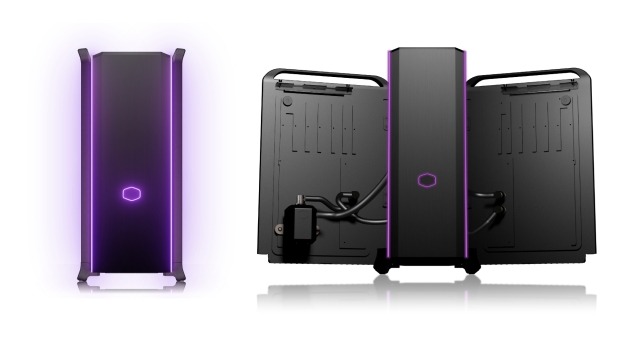 The Cooling X and the Sneaker X both feature bold and striking designs. The Sneaker X stands out because it's "a stylish desktop PC inspired by iconic sneakers" explicitly designed for sneaker enthusiasts and collectors. The Cooling X is impressive because it's a compact, fully liquid-cooled desktop PC with a Ryzen 9 7950X3D CPU and NVIDIA GeForce RTX 4080 graphics card.
The Cooling X features a custom in-house pump designed for silent and effective liquid cooling, with the solution including specific liquid cooling side panels (one for the CPU and one for the GPU) - which is how the PC keeps its overall size in check.
Speaking of size, the form factor is definitely on the small end of the scale, with its dimensions of 266 x 149.4 x 371.6 mm. Integrated handles will make setup a breeze, and it's something that will easily slot into most desk setups. Cooler Master also notes that under full load, the overall sound level of the Cooling X sits at around 28dB, which is impressive - and only an 8dB increase over the silent 20dB idle sound levels.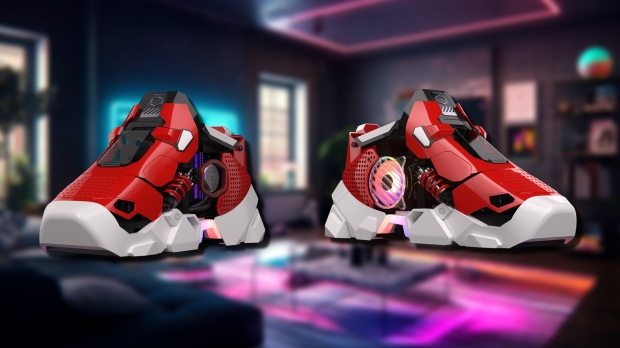 If the Cooling X is all about inventive small-form-factor liquid cooling, then the Sneaker X takes the style route. A giant red sneaker in the form of a high-end gaming and content-creation PC? Yeah, it's a bold choice. It first appeared at the Case Mod World Series 2020.
Although the shape might look strange, it has been designed to accommodate standard components like mini-ITX form-factor motherboards, SFX PSUs, and even 3-slot GPUs. With Cooler Master fans and a custom Master Liquid PL360 Fluz Sneaker Edition CPU cooler, it has been designed for function and form. The dimensions of this one sit at 650 x 306 x 651 mm, so it takes up more desk space than an actual sneaker - unless, of course, it's a futuristic giant robot's footwear.
"I am thrilled the Cooling X and Sneaker X, two groundbreaking desktop PCs that showcase our commitment to pushing the boundaries of innovation and design, are becoming widely available," said Jimmy Sha, CEO of Cooler Master. "These products are a testament to our dedication to meeting the diverse needs of our users, from gamers to creators and businesses. It's our mission to create products that empower our customers to stand out and embrace their inventive identity."
The Cooling X is on track for launch by the end of June, with a price point of USD 6,999. The Sneaker X is on track for an early July launch, with a price point of USD 5,999. It's expected that both will be on full display at Computex 2023.