As part of NVIDIA's presentation announcing the new GeForce RTX 4060 family, two out of three models could experience VRAM capacity issues for some titles when played using max settings.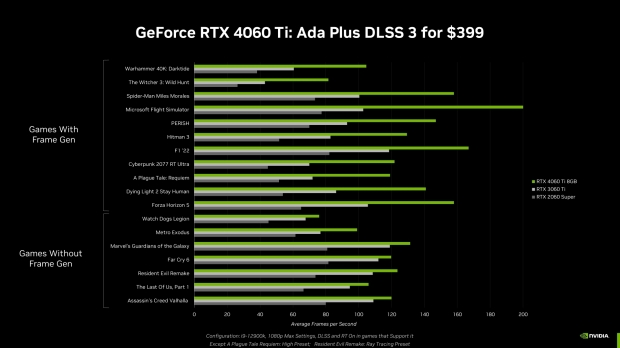 With the GeForce RTX 4060 and GeForce RTX 4060 Ti launching with 8GB of VRAM (the RTX 4060 Ti is getting a 16GB model in July), internal 1080p NVIDIA benchmarks for A Plague Tale: Requiem and Resident Evil 4 Remake were highlighted as two games tested using the 'High' preset as opposed to everything set to max.
NVIDIA noted that this is why the more expensive GeForce RTX 4060 Ti 16GB exists (USD 499 versus USD 399) for potential customers looking for a solution where tinkering with settings isn't required. Regarding the specs, the only difference between the RTX 4060 Ti 8GB and 16GB is the increase in VRAM capacity.
With VRAM capacity being a hot topic in the PC gaming community, where there's a strong consensus that 8GB isn't enough for 2023 - it's worth considering that the mainstream GPU market is all about balancing performance, costs, and overall features.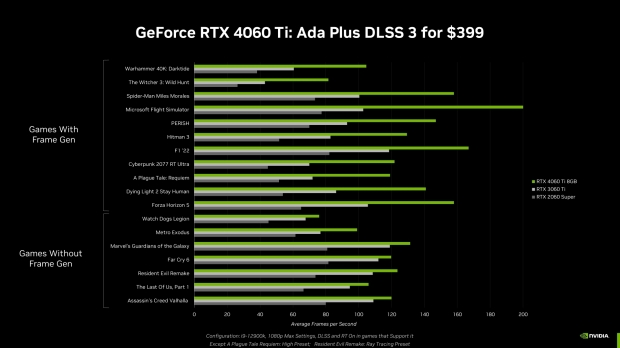 Even though here at TweakTown, we benchmark all GPUs using max or near-max settings in games, if you're gaming on a mainstream 1080p GPU - which is the resolution targetted by the upcoming GeForce RTX 4060 line-up - tinkering with visual settings is a part of the process. More often than not, you can get a sizable boost to in-game performance without sacrificing much in the way of visual fidelity. For example, lowering shadow detail from Ultra to High can boost fps and look roughly identical.
Still, as the GeForce RTX 3060 launched with 12GB of VRAM, it is disappointing that the 8GB limitation will be a thing for mainstream GPUs over the next few years. For the upcoming launch of AMD's mainstream Radeon RX 7600, leaks also peg that the mainstream RDNA 3 GPU also features 8GB of VRAM.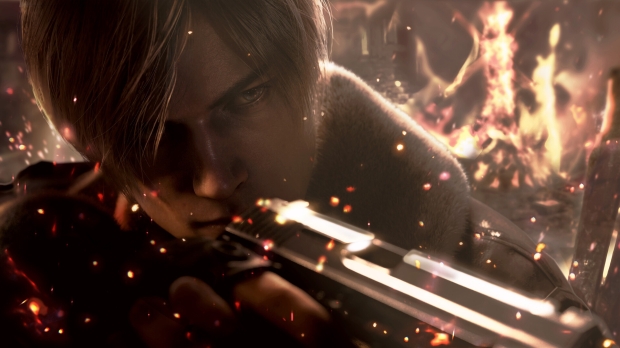 Throw in the 8GB of VRAM on the mainstream and impressive Intel Arc A750, and this is where we're at when it comes to affordable GPUs that aren't heavily discounted higher-tier GPUs like the Radeon RX 6700 XT. As great as it is to see both the GeForce RTX 4060 and RTX 4060 Ti launch with prices that are the same or lower than the previous generation, the icing on the cake would have been to see them arrive with 12GB or 16GB of VRAM.
On the plus side, with massive increases to L2 Cache, and new technology like the AI-based Neural Textures that can decrease texture file sizes by a factor of 16X without sacrificing quality, both the GeForce RTX 4060 and RTX 4060 Ti 8GB could be in a far better position in a couple of years than current trends might predict.