A leaked roadmap from Giga Computing, GIGABYTE's server and enterprise division, outlines what the next generation of data center technology from Intel, AMD, and NVIDIA will look like regarding power-draw. And when it comes to cooling data center hardware like CPUs and GPUs, it's looking like that could become a serious problem by 2025.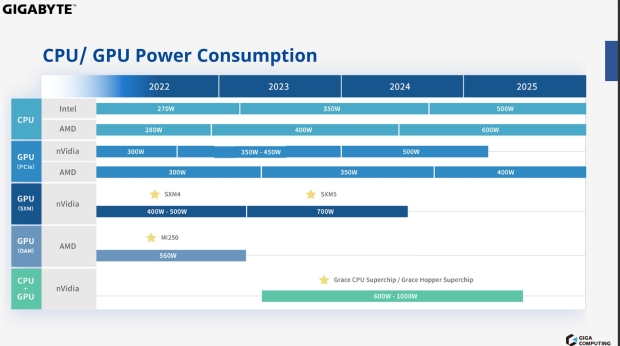 The slide shows a substantial increase in CPU power consumption from Intel and AMD, with 500W and 600W CPUs due sometime in 2024-2025. Compared to 2022 general-purpose CPU hardware, this is essentially a 2X increase.
PCIe-based GPUs will also see a power consumption increase, with GPUs from NVIDIA set to hit 500W with GPUs from AMD set to hit 400W. Things get a little crazier when it comes to different sets of hardware, with the slide mentioning NVIDIA Grace CPU Superchip and Grace Hopper Superchips that could feature SKUs with power consumption going all the way up to 1000W.
Of course, the need and demand for high-performance computing (HPC) that can handle complex AI workloads are set to drive the need for higher-performing chips and hardware, no matter the power cost. Of course, efficiency is still high on the list for all hardware makers - but it kind of feels like architecture is moving towards more power usage overall. NVIDIA's H100 Tensor Core GPU is already configurable up to 700W, so this GIGABYTE slide and presentation is accurate regarding how things are at the moment.
Intel and AMD's server-based Xeon and EPYC CPUs for data centers expected over the course of the next year have also been reported to push up to 600W. So this slide essentially serves as a reminder that alongside raw processing power, the demand for improved high-performance computing and the rise of AI will see a similar rise in power consumption. Here's hoping that all of this hardware can be cooled effectively.