Recently we reported that modder PureDark had successfully modded DLSS 3 into The Elder Scrolls V: Skyrim, with the mod being in the early stages of testing before it can be made widely available.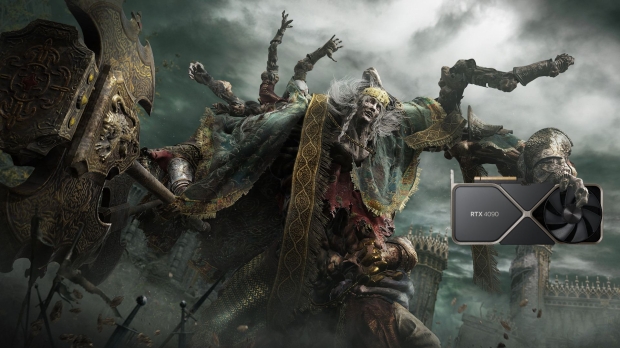 But, PureDark has also been working on adding DLSS 3 and Frame Generation into Elden Ring on PC, with mod now available to Patreon backers. Frame Generation and DLSS 3, which leverages AI to generate new frames and improve game performance, is exclusive to the new GeForce RTX 40 Series of graphics cards. It leverages Super Resolution (DLSS 2), Frame Generation, and NVIDIA Reflex to reduce latency.
The results have already been impressive, with several titles like Cyberpunk 2077, Forza Horizon 5, Marvel's Spider-Man, and more supporting the tech. For DLSS 3 in Elden Ring, Wccftech got their hands-on the mod via PureDark and tested it to see how it performed with a GeForce RTX 4090 and an Intel Core i7 12700KF processor.
Using the game's starting location in 4K with ray-tracing enabled, they witnessed a performance uplift of 37%, with the average frame rate jumping to 120.6 fps compared to 88 fps with DLSS 3 disabled. Even more impressive is that the 1% lows saw a massive jump of 67%, going from 54.1 fps to 90.5 fps.
DLSS 3 is not only about improving performance; there's also the fact that it helps mitigate CPU limitations to provide a more consistent gaming experience. And when it comes to noticeable visual artifacts caused by AI-generated frames, Wccftech notes that they couldn't spot any.
You can check out the mod in the video below, highlighting the ReShade menu, adjustable settings, and NVIDIA Reflex options.
As noted in the write-up, PureDark has also released a DLSS 3 mod for Star Wars Jedi: Survivor. However, that game only supports AMD FidelityFX Super Resolution 2.1 (with spotty results); it won't look as good as what we see here.