Crucial is preparing to launch its new range of ultra-fast Crucial T700 1TB PCIe Gen5 NVMe M.2 SSDs available in 1TB, 2TB, and 4TB capacities. How fast? Well, its sequential read speed of 12,445 MB/s (as per our testing) will make it the fastest Gen5 option when it launches on May 30, 2023.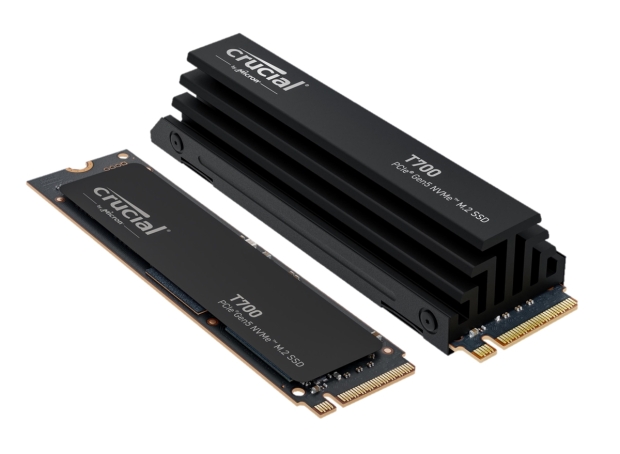 Pre-orders for the new storage are open now via Crucial, with pricing for the 1TB variants starting at USD 179.99 for the non-heatsink model and USD 209.00 for the heatsink model.
We went hands-on with the new Crucial T700 2TB PCIe Gen5 NVMe M.2 SSD with heatsink, and our in-depth testing backed up Crucial's claims of sequential reads and writes speeds of up to 12,400/11,800 MB/s. Also, the passive cooler proved effective in keeping the SSD from running into throttling issues.
"The T700's factory heatsink is a passive cooler, fairly conventional in shape and size," Jon Coulter wrote. "Most of all, we like how effective it has proven to be during our testing, keeping the world's fastest SSD running throttle free even during demanding workloads involving hundreds of gigabytes of data."
Even though the Crucial T700 features the Phison E26 controller seen before, the speed crown comes via the Crucial's T700 arrayed with a 25% higher speed Micron 232L B58R flash than other Gen5 SSDs. So even though there are motherboard wattage limitations, there's 20% more throughput.
Check out our full write-up here for a deep dive into the Crucial T700 with an extensive list of tests and benchmarks.
Here's a breakdown of the models and pricing, with pre-orders open here. Interestingly, the 4TB capacity variant without a heatsink's release date is TBD, even though there's a price. All models come with a 5-year limited warranty and free shipping.
Crucial T700 1TB PCIe Gen5 NVMe M.2 SSD - USD 179.99

Crucial T700 2TB PCIe Gen5 NVMe M.2 SSD - USD 339.99

Crucial T700 4TB PCIe Gen5 NVMe M.2 SSD - USD 599.99

Crucial T700 1TB PCIe Gen5 NVMe M.2 SSD with heatsink - USD 209.99

Crucial T700 2TB PCIe Gen5 NVMe M.2 SSD with heatsink - USD 369.99

Crucial T700 4TB PCIe Gen5 NVMe M.2 SSD with heatsink - USD 629.99