Whether or not foldable phones are the future of the smartphone is a matter for debate another time. But if there's one thing that we can all surely agree on it's the fact that there are more and more of them launching seemingly every month. Now, we've been treated to a leak of the specs for another, this time the Motorola Razr 40 Ultra is in the crosshairs.
The Razr 40 Ultra is expected to be joined by a budget-oriented Razr 40 Lite version, but it's the flagship that we're the most interested in for obvious reasons. Now, a leak by XDA Developers appears to have given us our first real look at what the device will have to offer in terms of specifications.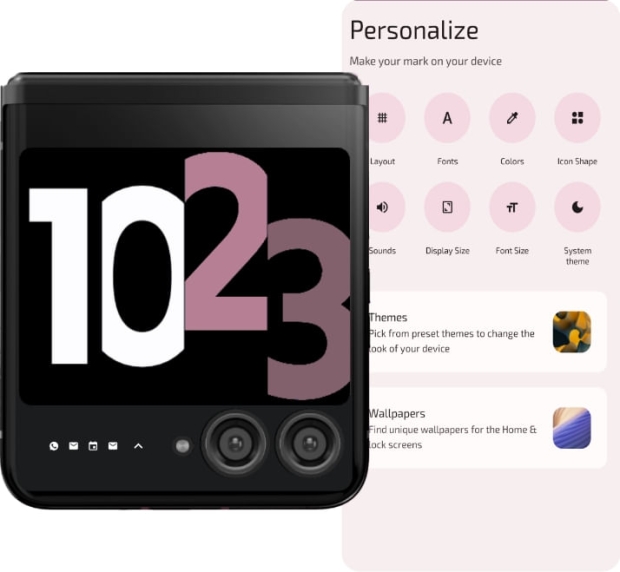 Kicking things off we're told that the Razr 40 Ultra will ship with Qualcomm's Snapdragon 8 Plus Gen 1 chip inside with up to 12GB of RAM and up to 512GB of storage wrapping up the main internals. There will also be dual-SIM and eSIM versions of the phone, while NFC and a fingerprint sensor are both table stakes at this point.
More interestingly, we have the displays. The foldable main display will be a 2640x1080 HDR AMOLED affair with a 120Hz refresh rate. On the outside, the cover display will be a square 1056x1066 offering.
Moving on, we get to the cameras. The primary camera will be a 12-megapixel Sony IMX563 sensor, while the secondary 13-megapixel camera will be an SK Hynix Hi1336 part, for what that's worth. The selfie camera? Well, that'll be a 32MP OmniVision OV32B40. All very specific.
Finally, we have the colors that people will be able to choose from. They include Blue, Black, and Barberry according to the report. That's a maroon-type color, in case you were wondering.
And then we get to when the Razr 40 Ultra will be announced. We're told that it'll arrive soon, which could mean anything. But with the leaks starting to heat up, we suspect that we won't have to wait all that much longer before we see this thing shown off in the flesh alongside that cheaper Lite version.
Foldables really are all the rage right now with Google expected to announce the Pixel Fold on May 10 and Samsung's next iterations of the Galaxy Z Fold and Galaxy Z Flip already beginning to leak. They aren't expected for a few months yet, possibly leaving Motorola to get its own phones into hands before that happens.