The name Steve Jobs is one that will go down in history as the co-founder of Apple and the man that saved the company from the brink in the 1990s. He died in October 2011 and his legacy lives on - and now you can own a little piece of history by picking up a check he wrote on behalf of Apple way back in 1976.
The check was for just $175 which was probably a lot more back then than it is in 2023. It's a business check made out from the Apple Computer Company account and is signed by Jobs himself. And right now it's up for auction with an expected selling price of around $25,000.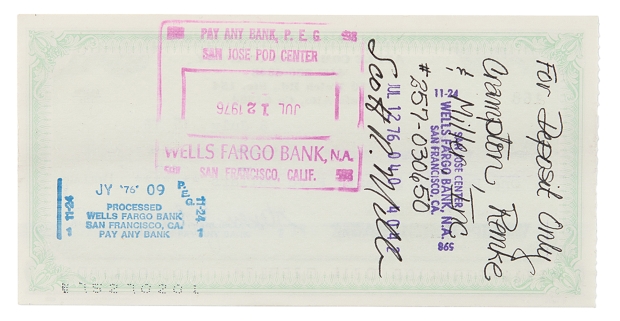 At the time of writing the bidding is at $16,500 and the auction ends on May 11, so there's still plenty of time for you to get in on the act.
The check itself was made out to Crampton, Remke & Miller which was apparently a management consulting firm in Palo Alto at the time. The company provided business process consulting to a number of tech companies at the time, with Atari, Memorex, Xerox, and National Semiconductor some of the other names on its list of clients.
Auctioneers at RR Auction believe that the check was a sign of Jobs' interest in building long-term growth during a period that saw the company develop the Apple-1 and secure its first big order.
The check itself is described as "essentially flawless" and could be a real conversation starter for a lot of people. So long as you have a spare $25,000 or sy laying around that is.