SpaceX launched its Starship launch vehicle on April 20, and after nearly four minutes of flight, the rocket was intentionally blown up, causing debris to scatter much further than initially anticipated.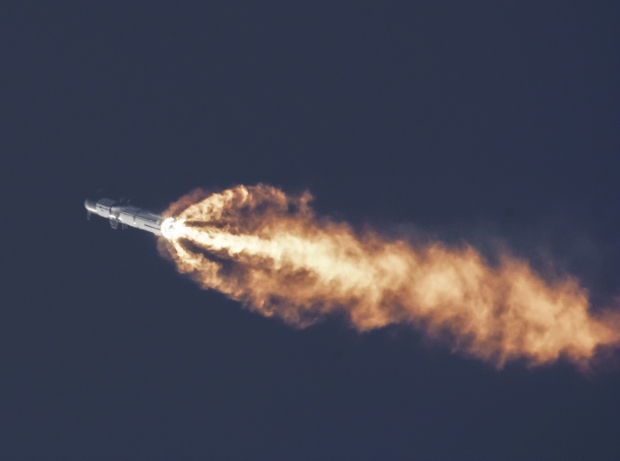 SpaceX has been developing Starship for quite some time, and on April 20, the company conducted its very first orbital test flight of the nearly 400-foot-tall rocket. Starship is slated to be the transportation method astronauts will take to the surface of the Red Planet, and its first orbital test flight was a monumental milestone on the long road to achieving that goal. SpaceX's next-generation rocket featured 33 Raptor engines, which generated a whopping 16.5 million pounds of thrust at liftoff.
Prior to the orbital test flight SpaceX CEO Elon Musk said in a Twitter Spaces held on April 16 that there was a real risk of Starship exploding. In fact, Musk said it was more likely that it would explode rather than reach orbit. Musk was right. Just four minutes after achieving flight, SpaceX was forced to initiate its mission termination process, or what officials called a "rapid unscheduled disassembly". The rocket's first stage, or booster called Super Heavy failed to separate from its second stage, Starship, which caused the rocket to tumble and lose altitude.
The launch clearly didn't go to plan, but perhaps in more ways than what is initially obvious. SpaceX didn't anticipate its nearly 400-foot rocket would absolutely obliterate its launch pad or how much particulate matter (pollution) would be generated from exploding Starship. This pollution would then rain down on residents and habitats in an area much larger than what SpaceX predicted. Both of these problems have caught the attention of the Federal Aviation Administration (FAA).
The FAA has grounded SpaceX's Starship program until it concludes its "mishap investigation". Notably, for SpaceX to launch Starship, it needed to be given a license from environmental, flight, and other regulatory bodies. In the FAA's environmental assessment of Starship, SpaceX estimated debris would fall within a limited 700-acre area, or one-square mile around the launch site. However, Starship's explosion resulted in particulate matter and dust raining down on homes, businesses, and schools in Port Isabel, a city six miles from the launch pad. Additionally, reports state windows were shattered from the rocket's explosion.
CNBC reports that it's unknown if this particulate matter or soot is dangerous to touch or inhale. Furthermore, there are concerns about the impact the pollution will have on the environment, in particular, soil health in the region. If you are interested in watching SpaceX's Starship launch and explode in crystal clear video, check out the below link.