Our Dead Island 2 build should help you get through some of the tougher parts of the game, and provide some disgusting zombie-bashing action along the way.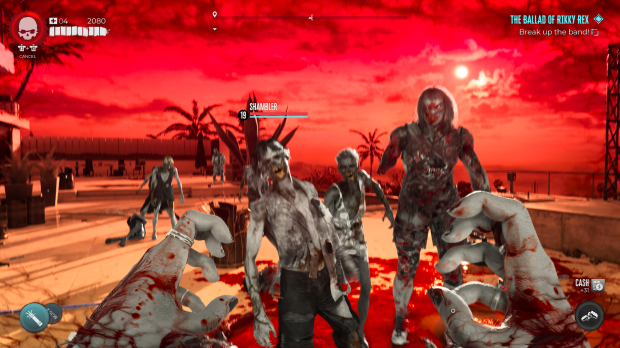 Dead Island 2 isn't necessarily a hard game, but it does have its moments. There's parts of L.A. that are just crawling with the undead. Sometimes there's dozens of enemies on the screen at any given time. This simple build will help you survive the colorful nightmare world of Hell-A.
First things first: This build is a melee build focused on up-close-and-personal attacks. In fact, this build actually prioritizes your fists.
It's entirely possible to get through a large portion of Dead Island 2 without using weapons very often--I actually did it--and there's a very good reason that we don't really use weapons all that much.
It turns out the fists are typically faster than any other weapon--at least at the beginning when weapon mods that improve attack speed are scarce.
And honestly...it's just so satisfying not having to worry about weapon durability/repairs or using up all your stamina.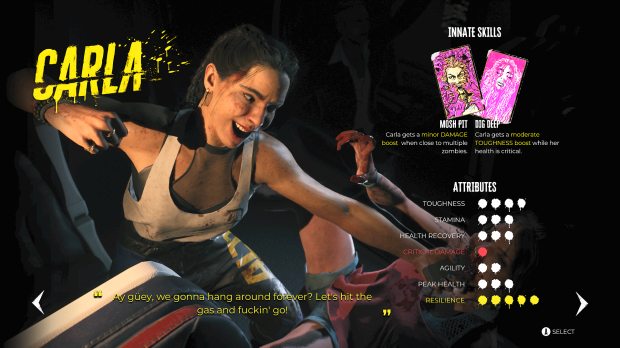 Starting Character
Okay, so...let's start with your character. I highly recommend Carla for this build because she not only has high resilience, but she has two great bonus innate skills.
Mosh Pit is fantastic because it boosts your damage a bit when you're surrounded by multiple zombies. This will happen all the time, so Carla practically always has a damage bonus.
The other skill bonus is Dig Deep, which is tremendously beneficial because it further boosts your damage if you have low HP. Both of these bonuses stack, and with this build you will not have to worry about low HP very often.
Carla's other stats are great too, especially the stamina, toughness, and health recovery.
Build Basics - Combat Loop
You're going to survive in Dead Island 2 by abusing and utterly exploiting a combat loop. It's a bit monotonous at times, but it's still satisfying to bash your way to victory.
The basic loop is the standard Block and Counter strategy: Hold LB to Block, then press RT before a zombie attacks to counter their attack and stun them temporarily.
Now you can Press X to initiate a Counter Attack and then RT to execute the attack. Here's what the loop looks like in practice:
All Counter Attacks initiate an animation sequence that not only interrupts any carnage on the screen but they also regenerate health in the process (status effects like burning, electrifying, or poison will still damage you over time during these sequences...so be careful!).
Counter Attacks only work against regular zombies, and not the special zombies like Screamers, Slobbers, or the Crushers that slam their fists on the ground. But don't worry--there's always tons of zombie adds around that you can use to trigger this loop.
Simply rinse and repeat to regain lost health. Congratulations, you're now a walking tank! This mechanic is a lot like Doom Eternal's Glory Kills.
Since your fists are so fast, you will end up staggering zombies even with your face-punches alone. These attacks are so fast that you will often interrupt the attacks from zombies, leaving them open to lethal blows.
When you're surrounded, use the block-counter routine when you need HP, and also carefully drop-kick zombies away from you if you're overwhelmed. Carla is absolutely fantastic at crowd control and can excel in crazy conditions.
Note: Your fists are not a default weapon in this game. The only way that you can select your fists is to let a weapon get damaged enough so that it breaks. Keep the broken item equipped on your weapon wheel and then select the broken item. Carla will default to her fists because the item is broken. You will need to keep the broken item on your weapon wheel for the entirety of the game if you wan to select your fists.
There's a few bonus skill cards you can assign to get the most out of this build. I've outlined some of the skill cards that I've used to really make this build pop.
Abilities tree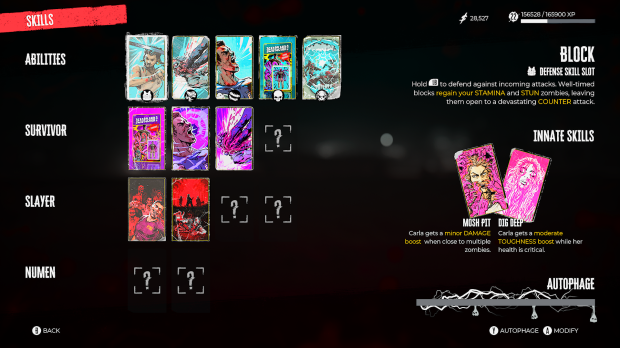 Defense Skill Slot - Block - Don't use Dash for this build, use Block. You'll need to be able to counter attack properly.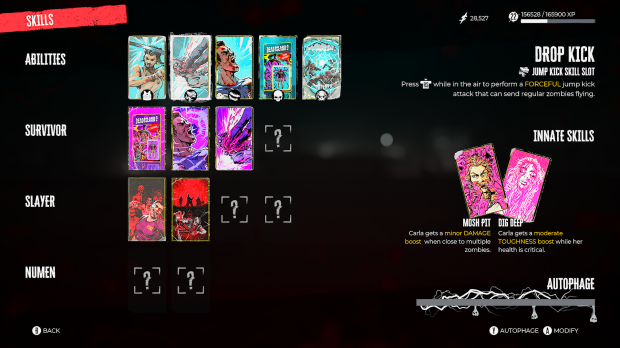 Jump Kick Skill Slot - Drop Kick - This is a must-have for crowd control. Your kicks will not add more force and send zombies flying. Cannot emphasize this skill's importance enough.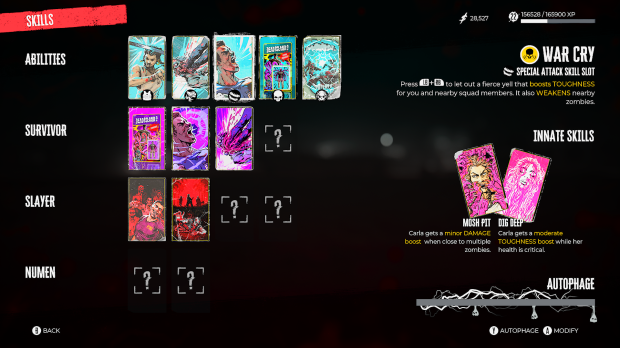 Special Attack Skill Slot - War Cry - This ability is tremendously useful. It will not only boost your damage but it also staggers and weakens zombies around you. Carla always wants to be surrounded by as many zombies as possible to get the Mosh Pit innate damage boost, and War Cry stacks on top of that boost as well as the Dig Deep boost. Don't use War Cry too much though because it drains your Stamina pretty quickly.
Since this is an early to mid-game build, we won't really discuss the Fury Skill or Fury Special Attack slots. If you're interested though, I highly recommend choosing both Blood Rush, which allows you to build Fury for every Counter Attack, and Scream, which also stuns and weakens zombies during Fury attacks.
Survivor Tree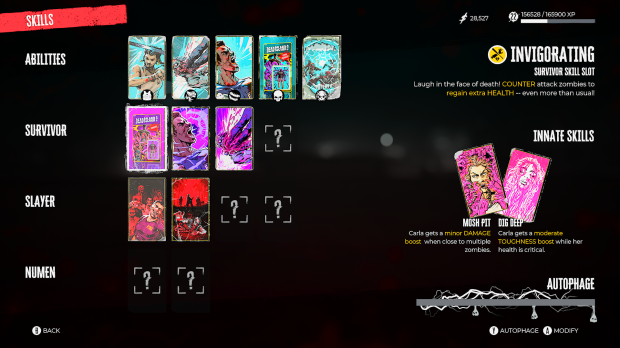 Survival Skill Slot #1 - Invigorating - This is the most important card to assign for this build. It boosts the HP gained from all counter attacks to the point where you will gain around 25% of your max HP back for every attack. HP builds slowly so you want to try to avoid attacks and block as much as possible...which is great because you will receive an even greater damage boost with the following Slayer card.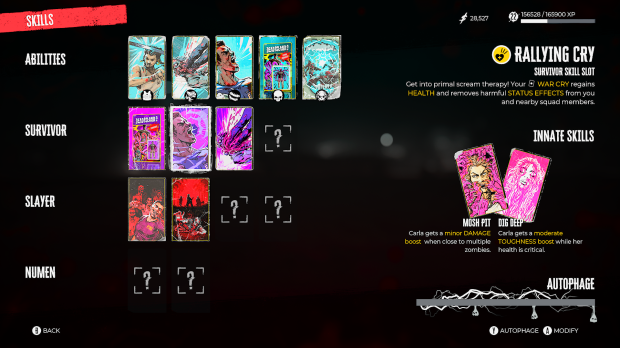 Survival Skill Slot #2 - Rallying Cry - I love this skill because it can strip away negative status effects and regain health every time you use War Cry. Absolutely recommend this skill.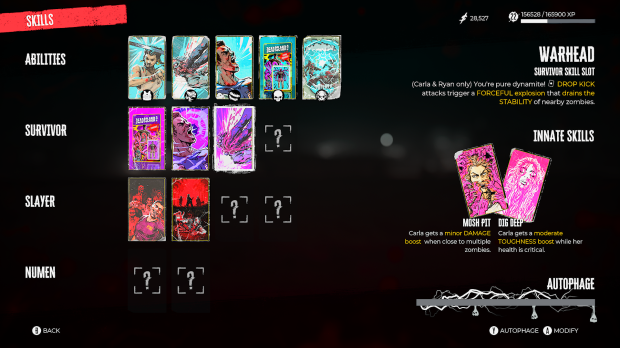 Survival Skill Slot #3 - Warhead - You might not unlock this for a while, but when you do, definitely assign this particular card to this slot. Carla's kicks can trigger an actual explosion and rock the stability of nearby zombies. This means zombies will be damaged in groups more often and also knocked off balance.
Slayer Tree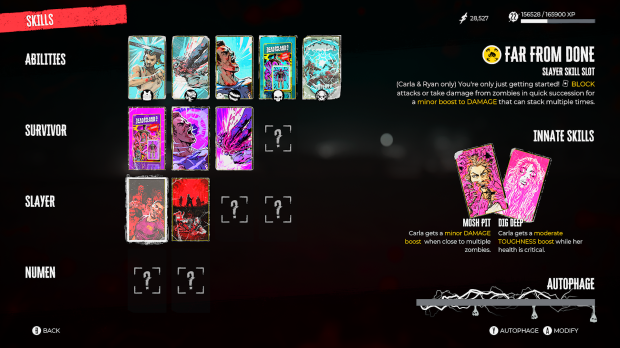 Slayer Skill Slot #1 - Far From Done - I absolutely love this perk. Blocking attacks in rapid succession will boost your damage. This stacks with all the other damage boosts and since Carla wants to be in the fray at all times, you'll pretty much have tons of opportunities to proc the effect.
Slayer Skill Slot #2 - Cull The Weak - This one is just a little bonus icing on the cake. You'll do a bit more damage to zombies with low HP...and if you're bashing your way through hordes, then there's a good chance a lot of zombies around you will have low HP.
Wrap-Up
This build allowed me to play Dead Island 2 without using weapons for a big part of the game. I absolutely tried out all the weapons I picked up, and you will definitely need to use weapons for tougher enemies and bosses. However, I did manage to beat The Bride in the Halperin Hotel exclusively using my fists...and it took a while. But it's possible.
This build also isn't super well-suited for the endgame. Zombies and enemies scale with your level and manage to get huge HP pools, so using your fists alone isn't well-advised unless you have some time to spare. Again, it's definitely doable to just use your fists, but it can take a fair amount of time.
One great benefit from this build is that you won't be repairing weapons often, and you won't really be spending your material crafting resources on upgrades for a portion of the game. This gives you a pool of mats that you can use later on in the game to build some really crazy weapons when the fists become more ineffective against difficult enemies.