The current hot topic in the GPU and PC gaming hardware space is all about VRAM and the question of capacity. Is 8GB of VRAM enough in 2023? The consensus is no, thanks to recent high-profile releases like The Last of Us Part I, Resident Evil 4 Remake, and Hogwarts Legacy, all featuring high-end settings that require more than 8GB of GPU memory to ensure smooth performance.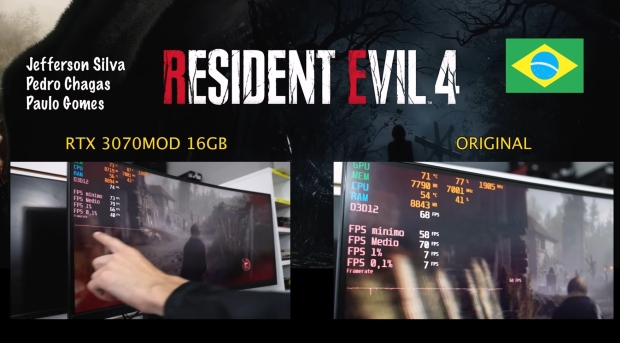 This is a question mark on the longevity of the most popular gaming GPUs, as all five of the top graphics cards (all from NVIDIA) in the latest Steam Hardware Survey for March 2023 feature 8GB of VRAM. The survey notes that 32.16% of Steam gamers are rocking GPU hardware with 8 GB of VRAM, including the GeForce RTX 3070.
YouTuber Paulo Gomes recently published a fascinating video highlighting the issue at the heart of the debate. It aims to discover what a GeForce RTX 4070 with 16 GB of VRAM can bring to in-game performance. This differs from a mod that anyone can whip up, as it requires significant PCB work to get the new Samsung 2GB memory configuration working. But work it does, with the GPU being treated as a regular GeForce RTX 3070, albeit with double the VRAM.
And the results are immediately impressive, with Resident Evil 4 showing a sizable 9X increase in 1% low performance - a far more stable and consistent experience than playing with the standard 8 GB of memory in the GeForce RTX 3070. With only 8 GB, we see a 1% low in the single-digit range compared to around 60 frames-per-second with 16 GB. Average frame rates also increased, with issues like stuttering disappearing almost entirely.
Of course, playing a modern AAA release that works best with ultra and high settings on a GPU with more than 8 GB of VRAM - tweaking settings to get a more stable experience is recommended. With the recent release of the GeForce RTX 4070, a card that features 12 GB of VRAM, these issues aren't a problem though many see the increase from 8 GB to 12 GB by NVIDIA as a band-aid approach compared to the more future-proof 16 GB of VRAM.