The new Ryzen 9 7940HS mobile processor pairs Zen 4 architecture with RDNA 3 graphics in the form of an integrated Radeon 780M GPU. The processor is featured in the new ASUS TUF A15 Gaming laptop. Even though there is GeForce RTX 4060 laptop graphics inside, tech reviewer ETA PRIME has tested the new integrated Radeon 780M GPU, and the 1080p benchmark results are impressive.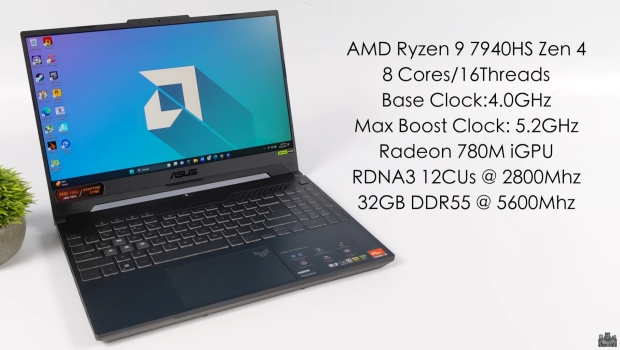 The AMD Ryzen 9 7940HS Zen 4 processor features 8 cores and 16 threads, with a base clock of 4.0 GHz and a max boost clock of 5.2 GHz. The RDNA 3-based Radeon 780M iGPU features 12CUs clocked at an impressive 2.8 GHz, with the ASUS TUF A15 Gaming laptop tested also featuring 32GB of fast DDR5 5600 memory (4GB of which is shared with the GPU).
Looking at synthetic 3DMark benchmarks, the Radeon 780M GPU delivers a 12% improvement over the 680M in the FireStrike test, increasing to 15% in TimeSpy. These are impressive results considering that there are no official launch drivers for the CPU, but that also meant some instability and crashing when testing certain games. ETA PRIME notes that he could not test Sony titles like God of War and Marvel's Spider-Man due to crashes.
Still, the Radeon 780M iGPU can deliver decent 1080p gaming performance for what is an iGPU that will probably end up in gaming handhelds like ASUS ROG Ally. ETA PRIME benchmarked its performance in several games with the CPU power limit at 80W, which would be much higher than what you'd typically find in a handheld. Still, here's a look at the numbers.
Radeon 780M iGPU - 1080p Gaming Performance
CS:GO (High Settings) - 138 FPS.
GTA V (Very High Settings) - 81 FPS.
Forza Horizon 5 (High Settings) - 86 FPS.
Fortnite (Medium Settings) - 78 FPS.
DOOM Eternal (Medium Settings) - 83 FPS.
Horizon Zero Dawn (Favor Performance) - 69 FPS.
Call of Duty: Modern Warfare II (Recommended Settings with FSR) - 106 FPS.
Cyberpunk 2077 (Medium/Low Settings) - 60-70 FPS.
Interestingly the iGPU was overclocked, with the Cyberpunk 2077 footage in the review showcasing a 3 GHz clock speed in the performance overlay.
This early look at the AMD Ryzen 9 7940HS with Radeon 780M iGPU is impressive and points to a future where integrated graphics can deliver excellent results in power-efficient devices. Check out the full breakdown in the video below.