Like Breath of the Wild before it, Nintendo's new Zelda: Tears of the Kingdom game will offer wacky adventuring and give players lots of opportunities to experiment with the world.
There's nothing quite like a new Zelda game. Every title brings its own unique flair, action mechanics, visual style, and a whimsical goofiness that's been retained in the series' 36 years on the market. The Legend of Zelda: Tears of the Kingdom pushes all of these things even farther than before with its new powers and abilities.
In a final trailer, Nintendo shows off some of Link's fancy new tricks. The most game-changing one, Ultrahand, lets players turn TotK's sandbox into a gigantic Erector set by melding various objects together to form something new. Slap a propulsion fan on practically anything in the game and you now have a vehicle, whether it's a flying platform, a boat, a hot air balloon, or a tractor. Link can even make hilarious mech-style automatons and ride them into battle.
I found this to be hilarious, weird, and somehow completely on brand for Nintendo's new Zelda games.
"In this game, you can do a lot of things just by thinking about what's even possible," Zelda director Eiji Aonuma said in a recent gameplay demo.
Another really cool thing that gamers can do is combine items together using Fusion. This power is primarily used to fasten two equip-able items together, like fusing a shield onto a two-handed sword to allow blocking with dual-hand weapons, or even attaching your shield to a rocket to fly up into the heavens.
Yes, Tears of the Kingdom will have rockets.
Some classic bosses also show up in Tears of the Kingdom, including Gleeok, the three-headed dragon that was first seen in the original Legend of Zelda on the Nintendo Entertainment System. TotK's version of Gleeok is pretty intense, with a fiery look that's straight out of Greek mythology.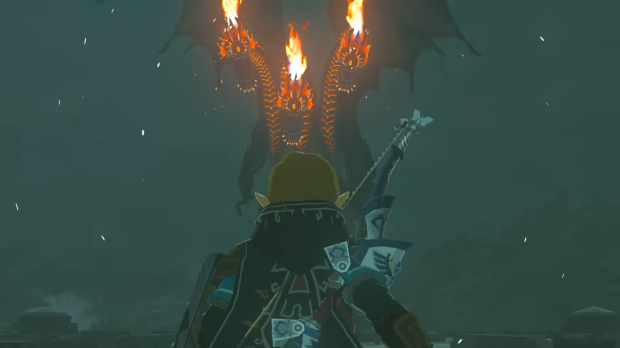 Perhaps the most exciting thing about Zelda: Tears of the Kingdom is how the community will come together and share tips, tricks, and outrageous creations that they made using these powers. The weeks after TotK's launch should be a lot like Elden Ring and create one of the most engaging and entertaining gaming experiences of 2023.
The Legend of Zelda: Tears of the Kingdom releases May 12, 2023 exclusively on the Nintendo Switch.