With each new generation of GeForce RTX hardware improving ray-tracing performance, alongside continued advances for tech like DLSS and the new DLSS 3 Frame Generation exclusive to the GeForce RTX 40 Series, NVIDIA has revealed some of its stats relating to the everyday use of RTX tech.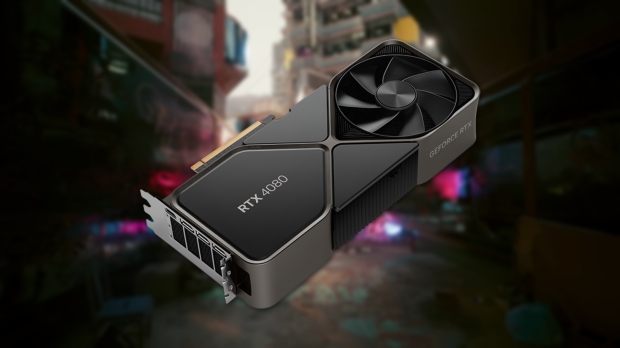 With the release of the highly-anticipated Ray Tracing: Overdrive Mode in Cyberpunk 2077, which brings full path-traced lighting to Night City, DLSS is now supported by over 280 games and apps. And these new GeForce RTX 40 Series stats from NVIDIA are fascinating.
Although we don't have specific sales figures outside of NVIDIA confirming that there are "millions of GeForce RTX desktop GPU owners," it does look like ray-tracing is a popular in-game feature for GeForce RTX 40 Series owners.
As per the headline, NVIDIA notes that 83% of all 40 Series gamers (RTX 4070 Ti, RTX 4080, and RTX 4090) enable ray-tracing in games. Remarkably this figure is ahead of DLSS, which is widely considered something you turn on if it's available, with 79% of 40 Series owners enabling DLSS in games.
Going back to the launch of the GeForce RTX range with the 20 Series back in 2018, NVIDIA notes that with only four games with RTX technology, only 37% of gamers enabled ray-tracing, with 26% enabling DLSS 1.0.
With so many modern titles supporting ray tracing and DLSS, it's impressive to see this level of adoption in five years. That said, the 83% figure is limited to the GeForce RTX 40 Series, which is still for enthusiasts and the high-end, so it's not indicative of mainstream PC gaming.
Still, it's great news for NVIDIA, who has introduced new tech with the 40 Series to improve ray tracing performance and workflows for developers specifically. Shader Execution Reordering (SER) and Opacity Micromaps (OMM), NVIDIA RTX Direct Illumination (RTXDI), and RTX Global Illumination (RTXGI) make something like the new Ray Tracing: Overdrive Mode in Cyberpunk 2077 possible.
With the arrival of the GeForce RTX 4070 any day now, and more mainstream 40 Series options set to hit the market, it'll be interesting to see if the percentage stays this high. As a fan of RT in games like Cyberpunk 2077, Metro Exodus, DOOM Eternal, and many more, it's great to see confirmation that gamers are utilizing RTX tech. It adds depth and realism to in-game visuals in a way that has been groundbreaking and fascinating to witness.
And speaking of RTX tech, DLSS 2 has been added to more PC games this week: Everspace 2, High on Life, LEAP, and Like a Dragon: Ishin!