NASA has revealed the next director for its Goddard Space Flight Center in Maryland, and at the swearing-in ceremony, fans noticed something peculiar about the book being used to take the oath.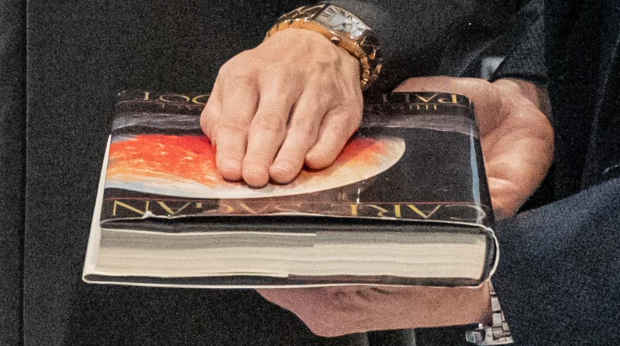 NASA has taken to its blog to name Dr. Makenzie Lystrup as director of Goddard Space Flight Center. Lystrup will take over from Dave Mitchell effective immediately and will make history by becoming the very first female center director at Goddard. Before joining NASA, Lystrup was vice president and general manager of civil space at Ball Aerospace, where she was responsible for maintaining the company's portfolio of space systems across various scientific fields.
Within this position, Lystrup has made contributions to NASA endeavors such as the James Webb Space Telescope (JWST), Landsat 9, the Roman Space Telescope, and the Imaging X-ray Polarimetry Explorer (IXPE). Looking at the above image, which was posted on NASA's website, NASA Watch's Keith Cowing spotted an interesting factoid. Lystrup was sworn in by NASA administrator Bill Nelson with her hand on a copy of Carl Sagan's 1994 "Pale Blue Dot" instead of a bible.
For those wondering about the legitimacy of Lystrup being sworn in on any other book other than the bible, the process remains completely legal due to laws separating church from state. In fact, in the past political party members being sworn into positions have used specific non-biblical books to send political messages. Essentially, the selected book represents a distilled version of the values or ideologies you hold as a person, which you then swear by.
As for Goddard, NASA's Maryland headquarters is responsible for a more than $4 billion portfolio, and it employs more than 10,000 people. According to NASA, Goddard is home to the nation's largest concentration of scientists, engineers, and technologists that are focused on developing more knowledge about Earth and space through scientific operations.
In other space news, SpaceX CEO Elon Musk has revealed when Starship is expected to conduct its first orbital test launch. Musk has indicated that SpaceX is nearing the end of the road with the development of Starship as the company is looking to perform its first orbital test flight of the behemoth rocket sometime next week. Musk didn't give a specific date for when the test flight would happen, but it's possible the Twitter CEO is trying to get it to land on April 20, or 4/20, as a nod to the cannabis smoking holiday. If you are interested in reading more about that story, check out this link here.