WhatsApp users around the globe could soon be pushing their status updates out as Facebook Stories, according to a new report.
It's said that WhatsApp is already hard at work testing the new feature with a group of iPhone users who have access to the latest TestFlight beta of the instant messaging app. Those people are now seeing an option to automatically push their status updates to Facebook, with the app noting that they will be shared to their Facebook Story audience.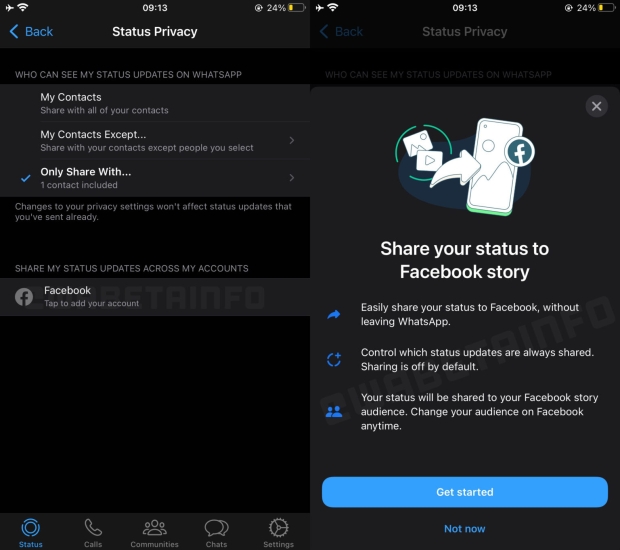 The update, which is WhatsApp beta 23.7.0.75, takes users through how the feature will work while also making it clear that they will ultimately remain in control of which updates are shared as Facebook Stories.
The WhatsApp beta watchers at WABetaInfo do note that the sharing option will be disabled by default and that those who decide that they no longer want to share their status updates on Facebook Stories will be able to disable the feature at any moment.
There is currently no indication of when we can expect this feature to be made available to the public as part of the WhatsApp version that is in the App Store, but we can surely expect it to be sooner rather than later. WhatsApp is normally pretty good at progressing features from beta to the public version of its app and hopefully this will be one of those situations.
Users of WhatsApp will have to decide if they want to share their status on Facebook of course, but the option to allow and revoke the sharing at any time is promising.
Anyone who had been manually sharing their WhatsApp status as a Facebook Story will no doubt benefit from this change as and when it's made available to everyone.
Meta-owned WhatsApp is already one of the best ways for people to stay in touch, especially if their friends and family are using different platforms. While iMessage is the way to go if everyone is an iPhone, iPad, or Mac user, WhatsApp is worth its weight in gold when someone with an Android device is involved. There are of course alternatives in the form of Signal, Telegram, and others. But until Apple supports RCS a third-party app will always be needed unless people want to resort to using SMS and MMS when talking cross-platform.
RCS is an advanced form of SMS and MMS and functions in a similar way to iMessage, but Apple has so far refused to bake RCS support into any of its platforms.