You may purchase a second-hand Android phone or use a friend's or relative's phone for the time being but encounter an issue to bypass the Google account verification after resetting. And if you cannot recall your Google ID details, you may get trapped on the 'Verify your account' page.
So is there a feasible method for Samsung FRP bypass? Logging in with your correct email ID or phone is probably the only manual solution available. But what if you forget it? In this case, stay tuned to get hold of the finest FRP bypass tool and unlock your Android devices in no time.
What Is Google Account Verification (FRP lock)?
Earlier, all Android devices were exposed to security and privacy issues as anyone could quickly get hold of your phone and bypass Google account verification after resetting. So whether you used a PIN or pattern lock, it was effortless to bypass your Google account after the reset.
So Google devised a plan and introduced Google Reactivation Lock or Factory Reset Protection (i.e., FRP) to give the owner complete control of his device. Then, using an FRP lock, only the owner can reset and unlock Android devices with his Gmail credentials.
Situations to Remove Google Lock and Bypass FRP
Since 2015, Google FRP locks have been protecting Android 5.1 and later versions helping Android users prevent any unwanted user access to use their devices in case of a factory reset. The FRP lock function initiates automatically when anyone ever tries to breach your phone's security by factory resetting the device without disabling the FRP feature.
Some common situations where you need to bypass Samsung FRP locks include;
Unable to use the Android device
FRP locks ensure verifying the Google account by entering the Gmail credentials (used for the first time) to access the phone. If the user has forgotten the initial Gmail ID, he might be in trouble.
Problems in selling/trading the Android phone
If you sell your Android phone with FRP lock activated, you must disable it, as the buyer might have problems using it.
Difficulty in accessing second-hand Android phone
Buying a second-hand device can put you at risk if the previous owners' FRP is activated. In such a case, you must contact the owner and ask for his initial Gmail ID to bypass the FRP lock and unlock Android phone.
Problem with getting a pawn loan
An Android device with activated FRP might not fetch you a pawn loan easily, as you might face trouble keeping your FRP-locked device as collateral security.
Difficulty in performing the reset
Every time you may need to perform a factory reset, all the Google accounts must be removed to disable the FRP locks from the Backup and Reset settings.
How to Bypass FRP lock on Samsung Phones Using UnlockGo(Android)
So if you need help to bypass the Google account verification on Samsung devices and looking for a safe and effective solution, iToolab UnlockGo (Android) can be the perfect fix.
iToolab UnlockGo for Android is a handy Android unlocker for over 2000 Android models in 15 brands. This Samsung FRP bypass tool is an effortless solution to help you unlock your devices and access them as new.
Many FRP unlocker tools don't support Android 13/12 FRP bypass, but iToolab UnlockGo (Android) is more efficient than other Samsung FRP bypass tools of the same type in removing the FRP lock in a few clicks. Instead, it removes any screen lock like PIN code, face/touch recognition, pattern, and more in seconds.
Simple steps to bypass Samsung FRP
Download and install the iToolab UnlockGo (Android) to start the Samsung FRP unlock process and get started with these steps immediately.
Step 1: Connect your Samsung phone to the computer
Connect your Samsung phone (the one with FRP lock) or tablet to your PC with a USB cable.
Step 2: Launch the iToolab UnlockGo (Android)
Once done, launch the iToolab UnlockGo for Android from the official website and open it.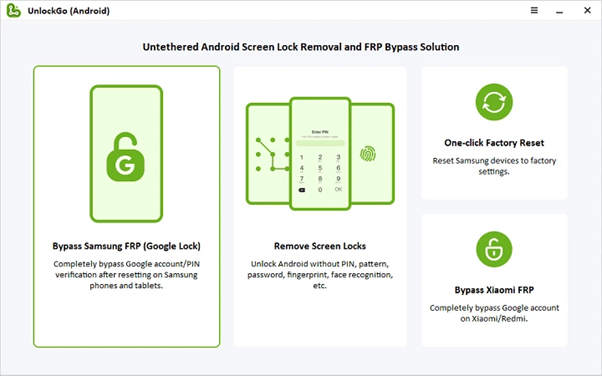 Step 3: Select Remove Google Lock (FRP)
Choose the Remove Google Lock (FRP) option from the screen that will wipe out the data on your Samsung and click Start to continue with the bypass process.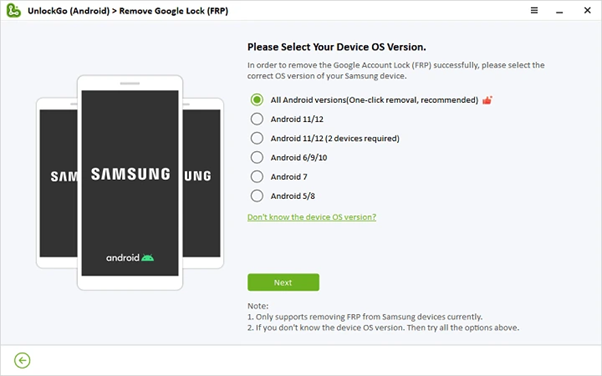 Step 4: Select the ace solution to bypass any Android OS version
Finally, bypass FRP. Click the All Android versions (One-click removal, highly recommended)
Note: In the earlier versions, you needed to tick the Android version your Samsung phone is running, but now you just need to select the first option, 'All Android versions ...', and it works for all Android versions - and by far the easiest way.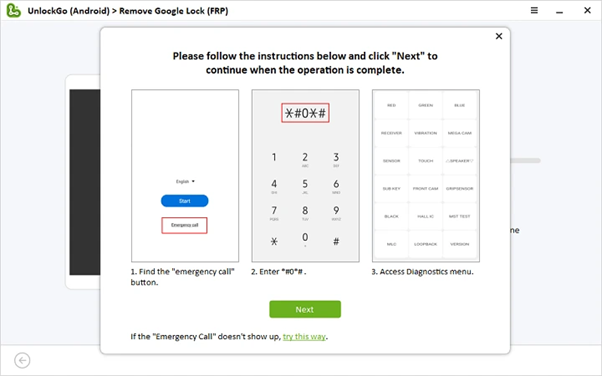 Step 5: Enable USB debugging
Now follow the instructions on the screen and go back to your phone's first screen and find the Emergency Call button. Enter the secret code displayed on your monitor and allow the USB debugging.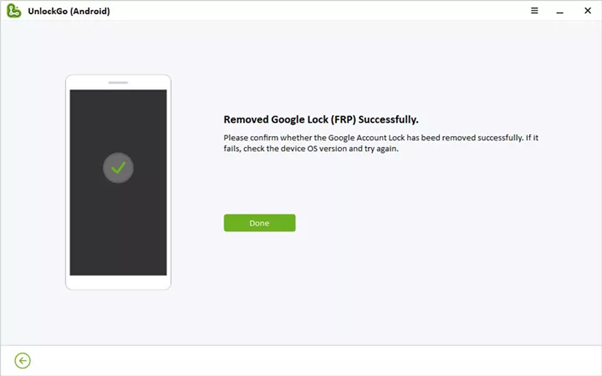 And that's it. You shall now be able to Unlock Samsung phone, and it will restart automatically. So if your phone is flashing after reboot, you can even restart it manually by pressing the Power key and Volume Down keys together and clicking the Restart button, and you shall now access your phone like a new one.
What Else Can UnlockGo(Android) Solve for You?
Besides performing smoothly on Samsung, iToolab UnlockGo (Android) can solve many issues in a few clicks.
1. Bypass FRP on Xiaomi and Redmi
iToolab UnlockGo lets you unlock FRP on MIUI 10-14 in one click and enjoy full access on Redmi and Xiaomi phones and pads. Also, it enables you to bypass Google account verification after a hard reset and skips any PIN and pattern locks.
2. Unlock any screen locks on Android Phones
iToolab can easily unlock Android phones by removing all types of screen locks such as PIN verification, pattern, password, fingerprint (Touch ID), and face recognition hassle-free.
3. Unlock Samsung phones without losing data
UnlockGo is capable of breaking Android passwords without key combinations and unlocking any earlier version of Samsung phone (before S7) without losing the data (or factory reset). It works flawlessly on Galaxy Note II, 3, 4, 8, Galaxy S3, S4, S5, S6, and Galaxy Tab.
4. Offers Free Solution
iToolab UnlockGo provides free trials to factory reset Samsung devices at one click.
5. Supports various Android devices
iToolab UnlockGo supports 15 brands, such as Samsung, Sony, LG, Motorola, Huawei, VIVO, Oppo, Xiaomi, MI, etc., and over 2000 Android phones and tablet models to remove all the screen locks efficiently.
The Bottom Line
FRP locks come in handy to protect confidential data by preventing others from unwanted access if your phone is stolen or otherwise. Though it was introduced to give the device's owner complete charge of his phone, situations may arise when you need to bypass the Google account verification process.
But our suggestion would be to look no further and use the reliable iToolab UnlockGo (Android) - Google lock removal tool to easily unlock Android phones.