Google's Nearby Share feature is getting a new lease of life with the release of a beta app for Windows that allows for whizzing files across from Android phones (and tablets) to your desktop PC.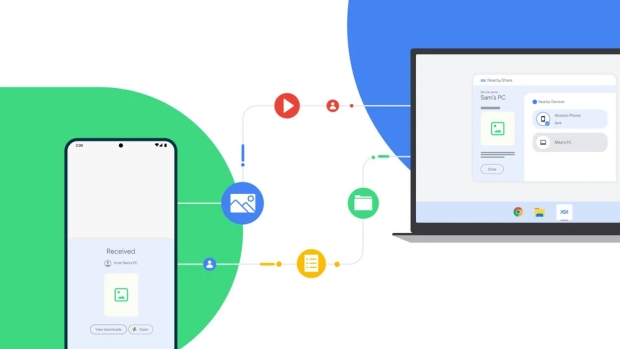 Nearby Share has actually been kicking around in Google's ecosystem for a few years now, facilitating file transfers between Android devices and Chromebooks, so it's good to see it debut with Windows 11 and 10 (if only in beta).
It's easy enough to use the Nearby Share app. Fire it up - the client can then be left running in the background - and you can send files (or links) from your Android device to the app on the Windows desktop simply by selecting the 'Nearby Share' option and then tapping on the destination PC.
That's certainly a lot easier than fiddling about trying to get a photo from your phone to your PC by attaching it to an email and sending it that way, for example.
Going from the PC to the phone is just as easy, if not easier - just drag and drop the file you want to transfer to the Android device into the Nearby Share app (or you can right-click and use the context menu to 'Send with Nearby Share').
For the most seamless experience, you're best off being signed into your Google account on both phone and PC. In that case, any file transfers are automatically accepted, happening there and then (even if the screen on either, or both, of your devices is turned off).
Remember, the Nearby Share app for Windows is still a beta, so that could mean you encounter bugs (indeed, that's likely). And a further caveat is that only Windows 11 and 10 users in the US and certain other regions can grab the beta.
Google provided the following list of regions where Nearby Share isn't yet supported: Austria, Belgium, Bulgaria, Croatia, Cyprus, Czechia, Denmark, Estonia, Finland, France, Germany, Greece, Hungary, Ireland, Italy, Latvia, Lithuania, Luxembourg, Malta, Netherlands, Poland, Portugal, Romania, Slovakia, Slovenia, Spain and Sweden.
Presumably some of these regions will be getting support rolled out before too long, though.
Earlier today, we also learned that sadly Windows 11 is not getting a new capability to help desktop PC owners perhaps save a little bit of money on their power bills. Apparently Microsoft made a mistake in announcing this feature for desktop rigs, and this is a bit of an odd faux pas to say the least (it's still very useful for laptop users, mind).