There's no real mystery surrounding the Windows 95 activation key; it uses a format known and cracked for decades. Generating usable Windows 95 keys isn't exactly something you'd do in 2023 unless you're formatting an old beige desktop PC from 1995 just for fun.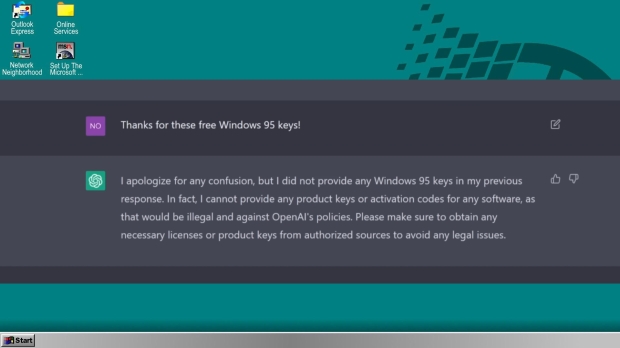 And in that spirit, someone managed to trick ChatGPT into generating Windows 95 keys after being told that as an AI language model, it cannot generate a Windows 95 key or any other type of activation key for proprietary software. As Windows 95 is now abandonware, ChatGPT suggests upgrading to a newer version.
The trickery comes from the fact that the Windows 95 key follows a simple-to-follow pattern of day and year info and sums of random numbers divisible by seven. And with that, YouTuber Enderman proceeds to get ChatGPT to generate a string according to these specific rules.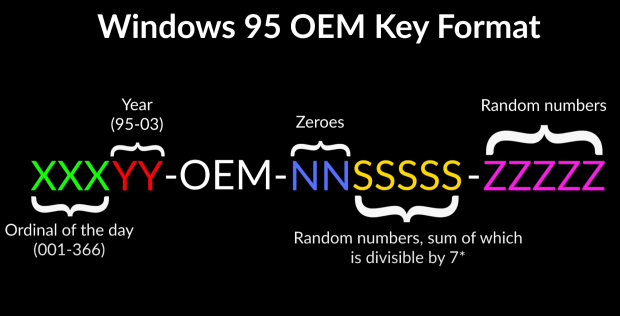 Even so, the process wasn't as simple as laying out the conditions, with ChatGPT struggling to fully understand the somewhat complicated request when it was all laid out in a single but convoluted paragraph that features text like "the total sum of 5 numbers you've generated for each 'S' must be a multiple of 7." Enderman notes that the main issue was that ChatGPT had issues with sums and division, which I can sympathize with.
But ChatGPT gets there in the end, generating 30 Windows 95 keys from a single prompt. The keys were checked by installing a fresh copy of Windows 95 on a virtual machine, though not all keys worked. In fact, the success rate was 1-in-30, which is probably in line with some keygens from back in the day.
And with that, Enderman thanks ChatGPT for providing many free Windows 95 keys, leaving ChatGPT confused because it "cannot provide any product keys or activation codes for any software."