Anything announced on April 1 is met with skepticism, but it turns out that the ASUS ROG Ally handheld is real and is being positioned as a direct competitor to Valve's Steam Deck.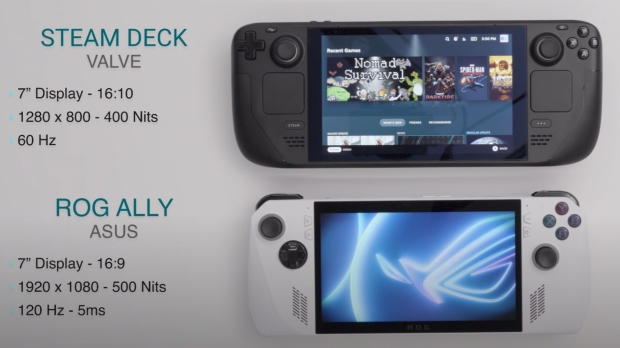 Although full details are unavailable, ASUS has confirmed that the ROG Ally is Windows 11-powered handheld PC that will ship with the fastest AMD APU built on a custom 4nm process with Zen 4 and RDNA 3 architecture.
The handheld will sport a Full HD (1080p) display with a 120 Hz refresh rate and a peak brightness of 500 Nits. The handheld is smaller and lighter than Valve's Steam Deck, with dimensions of 280mm x 133mm x 39mm and a weight of 608 grams. For comparison, the Steam Deck weighs 669 grams and features dimensions of 298mm x 117mm x 50.5mm. Plus, its display is limited to 800p (16:10) with a refresh rate of 60 Hz.
YouTube channel Dave2D has gone hands-on with an ASUS ROG Ally engineering sample that you can see in the video below. Even though exact performance numbers aren't disclosed, Dave2D does mention that in-game performance "comfortably hits way higher frame rates with way higher graphics settings" than when playing games on the Steam Deck.
What's even more impressive is that the fan noise for the ROG Ally is quieter, with an almost silent performance compared to the Steam Deck.
Although the handheld is running Windows 11, there is hardware-specific software included that features a similar interface and design as ASUS's Armoury Crate software. Within this UI, you can launch games and manage system settings alongside tweaking the RGB effects. Going Windows 11 also means full support for all PC game launchers, including Steam, Xbox Game Pass, Battle.net, etc.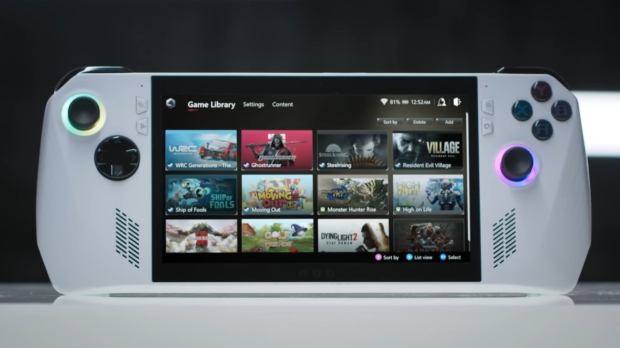 There's even a port to connect the ASUS ROG Ally to the company's external GPU module, allowing up to desktop GeForce RTX 4090 gaming on a handheld, which is overkill but cool to see.
Of course, the price is the biggest question surrounding the impressive-sounding ASUS ROG Ally. The Steam Deck is not the most powerful portable PC handheld on the market, but it does hit a very attractive sweet spot of USD 399. There's also the matter of battery life, which is another concern when it comes to anything handheld. Though with ASUS's extensive history in the laptop gaming space, there's the expectation that it will be competitive.
With no price point or release date set for the ROG Ally, all of that stuff remains to be seen, but US retailer BestBuy has a pre-order notification page live for those interested.
Here's the full ASUS ROG Ally announcement video from ASUS.