Micron and Phison have collaborated to create the new Crucial T700 Gen5 SSD, which delivers results that make it the "fastest SSD on the planet" thanks to its impressive 12.4 GB/s read speed and 11.8 GB/s write speed.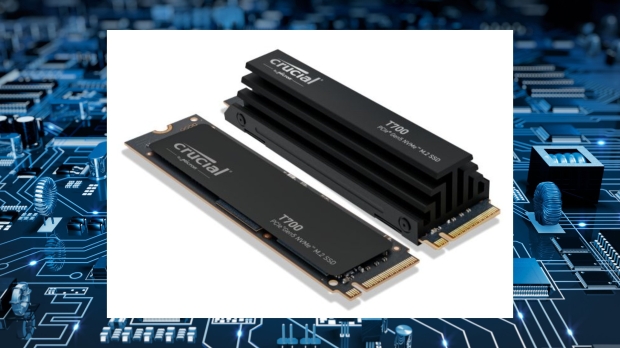 According to Crucial/Micron, this makes it just about two times faster than the company's fastest Gen4 SSD and 22 times faster than SATA. Though really, we're now at the point where traditional SATA drives are considered entry-level in terms of the speeds they offer.
Like with all modern-day Gen5 SSDs, there's a chunky heatsink to keep temperatures below "melting" levels, though compared to some of the fastest off-the-shelf Gen5 SSDs we've seen, it looks pretty compact. Crucial proudly proclaims that it includes a "premium heatsink for maximum heat dissipation without noisy fans or liquid cooling blocks," adding that a non-heatsink version is also available.
The Crucial T700 Gen5 SSD is compatible with Intel 13th Gen and AMD Ryzen 7000 series CPUs (and backward compatible with Gen3 and Gen4 systems) and will be available in 1TB, 2TB, and 4TB capacities using the standard M.2 2280 form factor. Hardware-wise, the drives feature Micron's impressive 232-Layer 3D NAND capable of an input/output (I/O) speed of 2.4GB/s per second.
Designed for data-centric workloads and the professional space, its use in Micron and Crucials' first Gen5 SSD for consumers is impressive. Thanks in part to it becoming one of the world's fastest consumer-based Gen5 SSD right out of the gate. And with that, the new Crucial T700 Gen5 SSD is aimed at creators working with photos, videos, and gamers, thanks to the addition of Microsoft DirectStorage optimizations.
No pricing info or exact release date was available when writing this, though Crucial notes that the release is "almost here," so "start planning your fastest build ever."