The new 80 PLUS Gold certified ENERMAX REVOLUTION ATX 3.0 Series of power supplies, available in 1000W and 1200W models, are tailor-made for the next generation of GPUs and high-performance CPUs.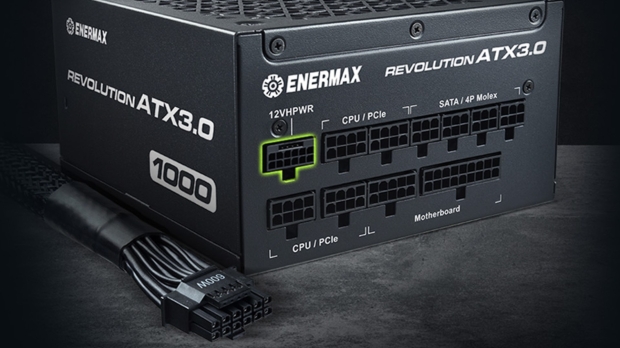 With the GeForce RTX 40 Series from NVIDIA shifting to the new 12VHPWR connector for power, most owners have had to use the adapters for power supplies. With the new REVOLUTION ATX 3.0 Series from ENERMAX, a single native PCIe Gen 5 12+4pin (12VHPWR) cable can supply up to 600W to a graphics card.
These power supplies are ready for GeForce RTX 4070 Ti, RTX 4080, and RTX 4090 graphics cards. And for good measure, ENERMAX also includes an extra dual 8-pin to 12+4-pin (12VHPWR) cable for high-performance users to connect an additional graphics card.
ENERMAX notes that the REVOLUTION ATX 3.0 Series can sustain up to 200% power load for power excursion, have a shorter power-on time than most power supplies, and reach 60%-70% efficiency during low loading.
The REVOLUTION ATX 3.0 Series uses ENERMAX's Semi-Fanless Technology with 135mm fluid dynamic bearing (FDB) fans. A side button that can activate the Semi-Fanless mode that ensures silent 0 dBa performance until the load exceeds 30% to minimize noise.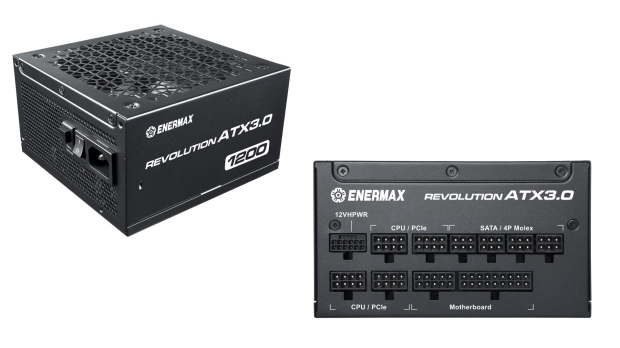 There's also a suite of safety and high-performance features; advanced LLC and Synchronous Rectifier (SR) and DC-to-DC conversion design, over-voltage protection (OVP), under-voltage protection (UVP), over-power protection (OPP), short-circuit-protection (SCP) and OTP (over-temperature protection).
ENERMAX REVOLUTION ATX 3.0 Series of power supplies are available through the company's official store (and Newegg) - with prices as per below.
REVOLUTION ATX 3.0 1000W / 80 PLUS Gold Certified Power Supply - USD 229.99
REVOLUTION ATX 3.0 1200W / 80 PLUS Gold Certified Power Supply - USD 249.99