DLSS 3 support comes to the popular and critically acclaimed racing game Forza Horizon 5 this week, offering a massive performance boost to GeForce RTX 40 Series GPUs. NVIDIA notes that with DLSS 3 support available in 29 games, the adoption rate is seven times faster than the first six months of DLSS 2.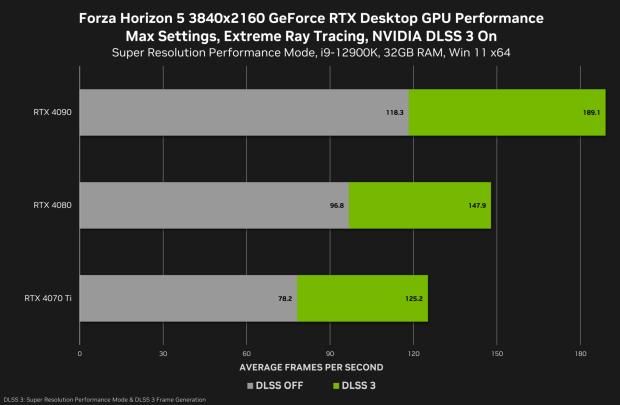 With the announcement, NVIDIA has showcased some internal Forza Horizon 5 benchmarks for the GeForce RTX 40 Series (RTX 4090, RTX 4080, and RTX 4070 Ti) with DLSS 3 enabled using max settings and the "Extreme" ray tracing mode.
At 4K (3840x2160), all three RTX 40 Series cards (with DLSS in Performance Mode) can deliver average frame rates higher than 120 fps. At 1440p, this number jumps considerably, with the RTX 4090 and RTX 4080 pushing past 200 fps and the RTX 4070 Ti hitting an average frame rate of 175 fps.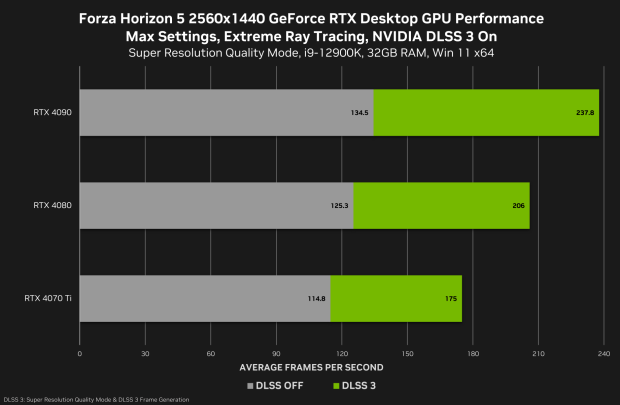 Of course, it's worth reiterating that DLSS 3 is a suite of RTX technologies exclusive to the GeForce RTX 40 Series, which uses DLSS Super Resolution (DLSS 2), NVIDIA Reflex to reduce system latency, and AI-based Frame Generation.
The latter delivers the most significant performance increase, and the generated frames are susceptible to artifacts and other issues. That said, as we've seen in Cyberpunk 2077 and games like Microsoft Flight Simulator, it's almost impossible to notice the single-frame problems, and the overall effect is mostly seamless.
This brings us to NVIDIA Image Comparison and Analysis Tool (ICAT), which lets you compare image quality between DLSS and non-DLSS frames - or any two images. A new ICAT update also arrives this week with support for the HEVC video format and the ability to export your analysis as a video file. The latest version is available here.
Finally, some new titles with DLSS 2 support this week include Gripper, Deceive Inc., and Tchia. Indie titles that all look wonderful, check out their trailers below.