Intel is releasing new Game On Drivers for its Intel Arc range of graphics cards at a steady clip, with the latest release adding support for the Resident Evil 4 Remake on PC.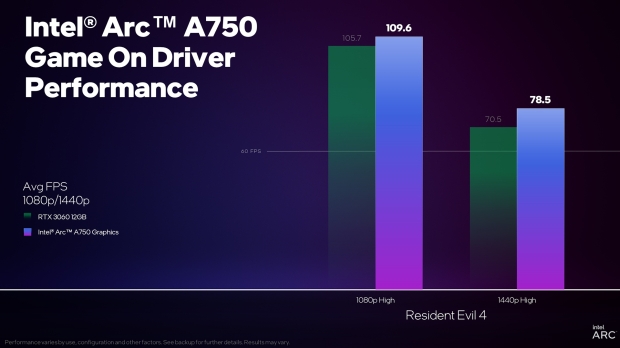 With its low price point, the Intel Arc A750 is positioned as an affordable GeForce RTX 3060 competitor. With that, the new driver update Intel showcases the 1080p and 1440p performance in Resident Evil 4 with the Arc A750 using the game's "High" settings outperforming the RTX 3060.
Even though internal benchmarks should always be taken with a grain of salt, Intel adds that at 1440p, you're looking at an impressive 74% more performance per dollar with the Intel Arc A750, and it does so with a very solid 78 frames per second.
There's also good news for those downloading and installing Intel Game On Drivers, as this new Intel Graphics Driver 31.0.101.4255 release drastically reduces the package size. And it does so while still combining support for Intel's discrete Arc graphics and graphics for Intel 11th to 13th Gen Core processors.
A size of 604 MB compared to the 1.3 GB seen in previous driver releases is nothing to sneeze at. It's pretty impressive to see. Intel notes that "smarter compression algorithms" has led to the overall data reduction, which will continue from this point forward.
Outside of support for Resident Evil 4, the new driver adds performance optimizations for Marvel's Guardians of the Galaxy, D5 Render, Blender in Material Preview viewport mode, and Counter Strike Global Offensive on Intel Arc for Laptops. Head here to download it.