Scientists have discovered an asteroid that's anticipated to pass closer than the Moon is to Earth in the next few days.
A new article published in EarthSky details a member of the Apollo family of asteroids, 2023 DZ2, which researchers estimate to be approximately 210 feet in diameter. The article states that the asteroid doesn't pose any threat to Earth and will make its closest approach to our planet at around 3:51 p.m. EDT on March 25. The space rock was discovered by astronomers at the observatory La Palma, in the Canary Islands, Spain, on February 2023.
As previously stated, astronomers expect the 210-foot-wide asteroid, which is approximately the of an average skyscraper, will pass between Earth and the Moon, which, given the asteroid's close proximity, enables amateur astronomers to catch a viewing. Notably, 2023 DZ2 is classified as a Near Earth Object (NEO) and orbits the Sun every 3.16 years. In the past, the large asteroid was thought to pose a risk to Earth, with estimations putting Earth on a collision course with it on March 27, 2026. However, after further analysis, officials removed 2023 DZ2 from the Sentry Risk Table.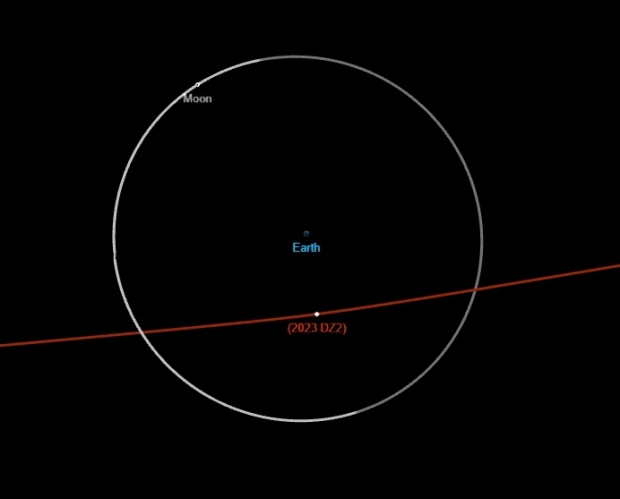 NASA took to its 'NASA Asteroid Watch' Twitter account to announce that 2023 DZ2 will pass safely by Earth at a distance of around 100,000 miles. Additionally, the space agency writes that close approaches by asteroids are a "regular occurrence", but an asteroid of this size is an event that takes place once every 10 years. The rarity of such an event springs forth an abundance of opportunity for scientists that will be closely observing every second of the asteroid.
NASA added on the above post that a team of astronomers with the International Asteroid Warning Network will be using this close approach to learn as much as they can about 2023 DZ2. Adding, their observations are "good practice" for any future Planetary Defense event that presents itself.
Furthermore, astronomers from the Goldstone Antenna located in California will be taking radar images of the asteroid between March 23 and March 26. If you don't want to wait for those images and would like to check out the asteroid for yourself - look to the skies on the early night of Friday, March 24, 23. Skywatchers should look above the southeastern horizon and locate Sirius and Procyon. Asteroid 2023 DZ2 will be on the left side of Procyon.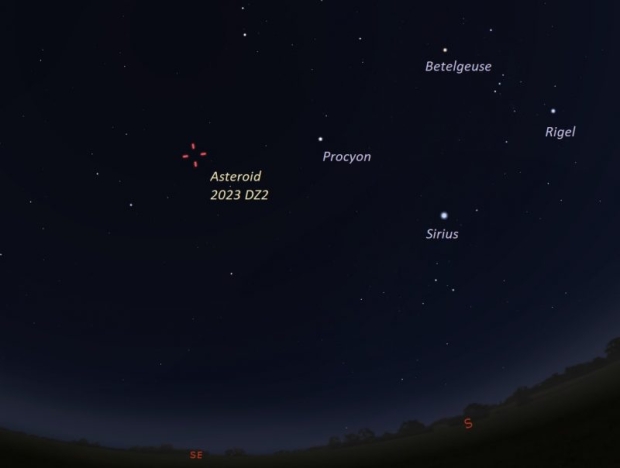 Lastly, if you are struggling to find the asteroid, head to the app store applicate to your mobile device and download a sky map. It will make identifying the appropriate stars much easier.