YouTube channel WhistlinDiesel has posted a new video showcasing a modified Tesla Model 3 with 10ft tall wheels driving along the road.
Cody Detwiler, the host of the WhistinDiesel YouTube channel that has amassed more than 5 million subscribers, explains that the goal of the above video is to test the Tesla Model 3 to see if it meets all of the claims Tesla has made about its vehicles. Notably, there is a strong vein of comic essence running through all of WhistinDiesel's videos, and the testing process is purely for entertainment purposes only, as Detwiler decides to set his own testing parameters.
One of the biggest claims from Tesla is that electric cars are greener for the planet than petroleum-powered vehicles, and while that may be true at face value, it really depends on where the electricity is sourced from. For example, if the electricity that is powering any electric car comes from a renewable source, such as solar-powered energy, then the vehicle would be greener than a typical combustion engine vehicle.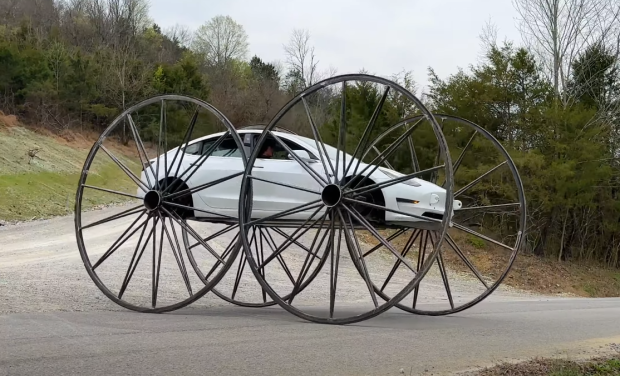 However, if it's not and it comes from a petrol-powered generator or a house that is hooked up to the main electricity grid, then it's likely not going to be much greener than a normal combustion engine. This point is rarely discussed by electric car manufacturers and was comically demonstrated by WhistinDiesel in their skit where the Tesla is needed to take an individual to the hospital, but there isn't enough range on the car, requiring a petrol-powered generator that emits a large cloud of smoke when started.
In the next test, WhistinDiesel created 10-foot-tall buggy wheels that suspended the Model 3 in mid-air, so it was possible for it to be flipped upside down. After taking the modified Tesla to the petrol station, the vehicle was then flipped completely upside down with the help of a crane. The Model 3 continued to work even when flipped upside-down but was quickly returned back to its normal orientation and then rolled down a steep hill.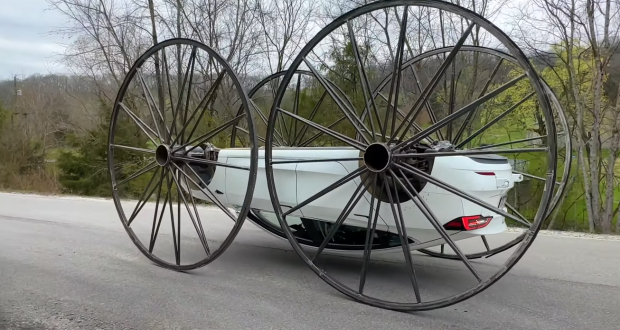 In other news, the UK government gave the green light to Rolls-Royce to construct a small nuclear reactor that would be used by astronauts living on a Moon base. The nuclear reactor will be developed by Rolls-Royce and several other collaborators that, if created, would enable longer scientific missions and an overall longer possible stay on the surface of the Moon.
If you are interested in reading more about that story, check out the link below.