Real-time ray-tracing has been one of the most talked about advances in PC gaming in recent years, and one of the most impressive games to feature the technology is CD Projekt Red's Cyberpunk 2077. A game that makes use of ray tracing for reflections, lighting, and other effects to add considerable depth and cinematic visuals to the game's futuristic Night City setting.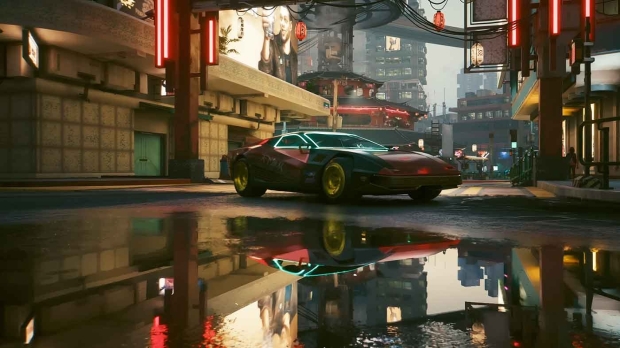 When NVIDIA lifted the lid on its new flagship GeForce RTX 4090 and GeForce RTX 4080 GPUs last year, it presented a look at a new ray-tracing mode coming to Cyberpunk 2077 called RT: Overdrive. The RT update is still in development and will make full use of DLSS 3 technologies and will be showcased by NVIDIA at the Game Developers Conference (GDC) next week in a presentation called Cyberpunk 2077 RT: Overdrive - Bringing Path Tracing into the Night City.
This is interesting for several reasons, but mainly because when we hear about path tracing in games, it uses ray-tracing for all in-game lighting, ala NVIDIA's Portal with RTX and Quake II RTX mods. Seeing this in one of the most technically demanding games in recent years is surprising and impressive.
"RTX Path Tracing aims to minimize constraints put on the content creators by delivering pixel-perfect soft shadows and indirect light contribution in fully dynamic environments from all the lights - be it an analytical local light, emissive surface, skylight, you name it," writes NVIDIA.
And it's in line with what has been announced for the RT: Overdrive mode - an overhaul of the already intensive ray-tracing in Cyberpunk 2077.
NVIDIA RTX Direct Illumination (RTXDI) gives each neon sign, street lamp, car headlight, LED billboard and TV accurate ray-traced lighting and shadows, bathing objects, walls, passing cars and pedestrians in accurate colored lighting

Ray-traced indirect lighting and reflections now bounce multiple times, compared to the previous solution's single bounce. The result is even more accurate, realistic and immersive global illumination, reflections, and self-reflections

Ray-traced reflections are now rendered at full resolution, further improving their quality.

Improved, more physically-based lighting removes the need for any other occlusion techniques.
No doubt this will be awesome to witness in motion, though based on just how intensive something like a path-traced Portal is, we're assuming the minimum spec would be a GeForce RTX 40 Series GPU with DLSS 3 enabled. Stay tuned to TweakTown on that front, as we'll test the mode out in full.
With the presentation at GDC, hopefully, this means the update is set to debut soon.