AMD's Ryzen 7000 CPUs had their sales momentum hampered by the cost of upgrading initially, with expensive motherboards being part of the problem right off the bat - but now truly affordable AM5 options are arriving.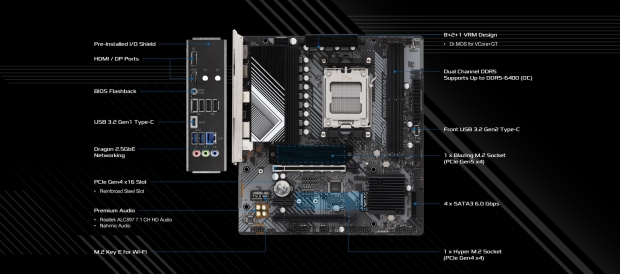 Enter stage left the ASRock B650M-HDV/M.2 motherboard, which Newegg is offering for US$125 right now, a US$15 discount on the recommended price (US$140).
We say Newegg is offering it, although at the time of writing, it's still officially on pre-order, but it goes on sale today (March 10), so should be available in a matter of hours (probably by the time you read this).
Note that this motherboard has two RAM slots, not four. Also worth bearing in mind is that B650M boards don't support PCIe 5.0 for the graphics card, but there is PCIe 5.0 support for the M.2 SSD.
But really, PCIe 4.0 will be fine for your GPU for a long time yet - it'll be a couple of generations down the line before you might regret not having PCIe 5.0. And at that point, you'll probably be looking at upgrading your PC again, anyway.
With DDR5 system memory slowly coming down in price too, and some good deals to be had on Ryzen 7000 models, the process of building a new PC with a Zen 4 processor is gradually becoming much more affordable.
That's in marked contrast to when Zen 4 was first launched, when it was a very pricey affair indeed, as we mentioned at the outset. (Recall that AMD took the rare step of applying substantial price cuts to the initial CPUs released very soon after launch just to stoke flagging sales).
AMD promised that AM5 motherboards would be available at a US$125 price point when Ryzen 7000 chips first launched, you may remember - but they took a long old time to arrive. Still, better late than never, as they say.