NASA's Curiosity rover has achieved yet another scientific milestone achievement by capturing the first images of Sun rays seeping through Martian clouds.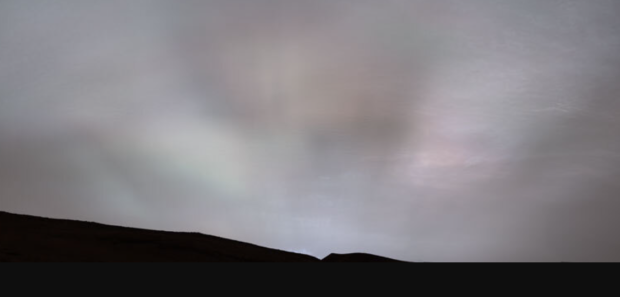 NASA has taken to its Mars Exploration-dedicated website to explain that Curiosity captured a "uniquely moody" Martian sunset on February 2. The space agency details that rays of sunlight broke through a bank of clouds, illuminating them and creating what NASA calls "crepuscular rays", which is the Latin word for "twilight". Notably, these images of the sun's rays are the first time they have been so clearly viewed from the surface of Mars.
The blog post explains that most Martian clouds are at an altitude of no more than 37 miles above the surface of the Red Planet and that these clouds are mostly composed of water ice. However, the recent photographs snapped by Curiosity show a group of martian clouds at a much higher altitude where it is much colder, leading researchers to believe that their composition is carbon dioxide or dry ice.
Much like clouds on Earth, researchers are able to analyze their patterns that lead to clues about the composition of Mars' atmosphere, its temperatures, and the winds battering certain regions of the planet.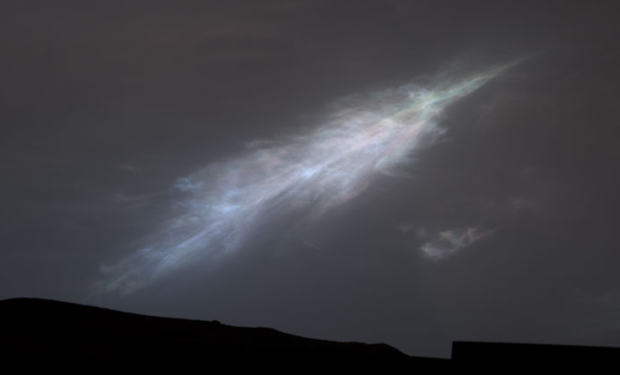 The above image was also snapped by Curiosity, but the rover was instead instructed to use its black-and-white navigation cameras to provide a different look at the clouds. The above image was taken on January 27 and shows a set of what appears to be colorful clouds in the shape of a feather. Why is this happening? NASA explains that when sunlight illuminates specific types of clouds, they can give off a rainbow iridescence, which is the phenomenon of certain surfaces appearing to change color gradually. An example of iridescence would be soap bubbles looking rainbow and changing color or certain minerals such as opal.
NASA explains that both of the images are made up of 28 individual images that were sent to Earth and then stitched together to form panorama shots that can be seen below. The images were then processed by NASA engineers to emphasize the highlights and make the discovery more observable to the public.


In other NASA news, the space agency has released the best images ever snapped of the most volcanic moon in our entire solar system. The images were snapped by NASA's Juno spacecraft, which is expected to make another pass with the Galilean moon in late May. If you are interested in reading more about the most volcanic moon in our solar system, check out the below link for more information.