Microsoft Office 2021 is the world's most popular suite of productivity tools. With Office, you can create, edit, and share documents, spreadsheets, and presentations with ease. But that's not all - Office 2021's real-time collaboration feature is a game-changer. Imagine being able to collaborate with colleagues, classmates, or friends seamlessly, regardless of your location; Office 2021's real-time collaboration feature makes teamwork a breeze. Upgrade to Microsoft Office 2021 today and streamline your workflow, increase efficiency, and take your productivity to the next level.
GoDeal24's Spring Sale has got you covered! For a limited time, you can get a lifetime license for Office Pro for just $24.25. And that's not all - you can also buy genuine licenses of various versions of Windows 10, including the most classic Windows 10 Pro, for only $7.25! Recently, Panos Panay, chief product officer of Microsoft, issued an update announcement saying that in the latest update of Windows, the new Bing integrated with the Open AI GPT function will appear on the search bar of the computer, making it easier for users to call AI search robot.
This might be a reason for you to upgrade to the latest Windows 11. Windows 11 Pro only sells for $10.25; feel the efficiency and convenience of AI together! Rest assured that all licenses are 100% genuine and have no gray market or illegal keys. And with GoDeal24's limited-time specials, you can save big on other popular Microsoft software too!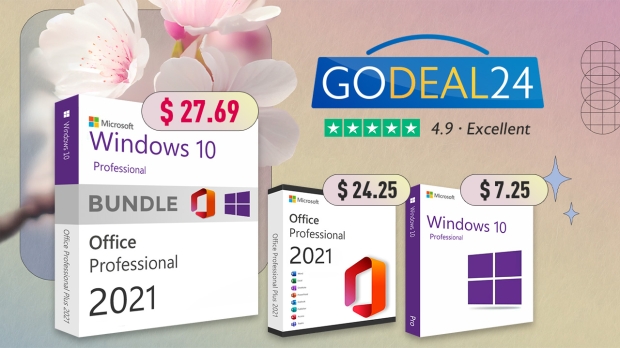 Popular items, limited time snap up! Windows OS and MS Office!
Buy More and Save More: Get your cost-effective bundle today and start saving!
Upgrade your productivity today with GoDeal24's cost-effective bundles! Save more compared to buying individual products and enjoy even more discounts by purchasing the Windows OS+Office bundle. Whether you need to upgrade Windows OS or MS Office for one or multiple computers, GoDeal24 has got you covered. MS Office 2021 license is available for as low as $13.05/PC, compared to the official price of $439.99, which means you can save more than 90%! GoDeal24 provides 24/7 support to guide you from purchase to installation. But don't wait - these offers won't last forever. Upgrade your productivity today with MS Office and Windows OS from GoDeal24!
Up to 50% off on More Windows and Office! (coupon code " GOLE50")
More PC tools at the Best Price!
At GoDeal24, you can save a lot of time and money with discounted Microsoft licenses, major IT security software and other computer tools like IOBIT, Ashampoo, Disk Drill and many more. Get Windows OS and MS Office at an unbeatable price. With GoDeal24, you can rest easy knowing your software is 100% safe and genuine, backed by a lifetime support and update guarantee from Microsoft.
Experience hassle-free shopping with GoDeal24's digital delivery, which sends your software directly to your email within seconds of purchase. Plus, with a TrustPilot 98% Excellent rating and 24/7 expert technical support, you can be confident in the quality of the product you're buying. Don't miss this chance to save up to 90% on the software you need for work or play. GoDeal24 promises that they offer 24/7 professional technical support and lifetime after-sales service and that you can use the product without problems! Contact GoDeal24: service@godeal24.com