Fandom can be wonderful, where passion and dedication can lead to some truly impressive feats. Case in point, The Time Trekking Technologist and his Star Trek-inspired Shuttle PC created in part to celebrate the new Star Trek Picard TV series. With three months of design, 3D printing, painting, and wiring, the DIY PC build is always exciting to see.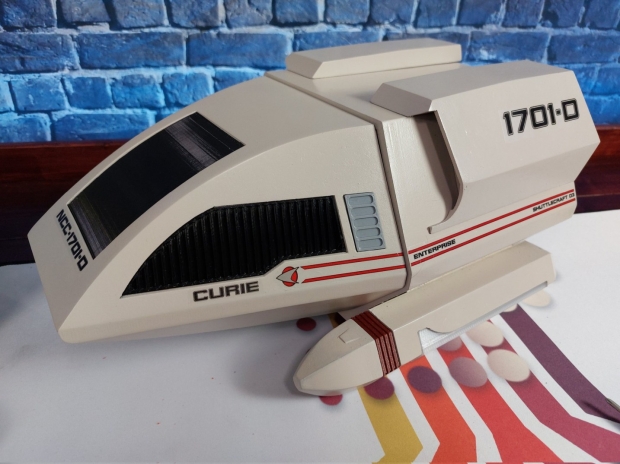 The video covering the build is a fun watch, as it covers the build and includes some of the 3D printing failures. There are some excellent touches, with the windows acting as vents for cooling and the power and reset buttons assigned to panels next to the windows.
There's some clever PC-building expertise, too, with additional Noctua fans used to vent air like an actual working engine on the back. There are even hidden USB ports on the front alongside the motherboard and other parts being installed on panels that can easily slide in and out.
Parts-wise, this is a reasonably modest rig, with an NVIDIA GT650 GPU, Intel Core i5 4460 CPU, 16GB of DDR3 memory, and a 512GB SSD. The Time Trekking Technologist notes that this was primarily a test and that there are plans to upgrade the hardware with beefier gear. However, the footage shows him playing the Quake 3-based Star Trek Voyager: Elite Force - a first-person shooter. So the PC's Star Trek gaming chops are there.
There's even an accompanying Windows tablet converted to look like a display panel from Star Trek that controls the lighting and features touch media controls for "allowing you to navigate your way through your favorite Star Trek episodes and movies."
For Star Trek fans wanting to know where the model for the shuttle comes from, it's based on the Type 6 shuttlecraft seen in Season 5 of Star Trek: The Next Generation.