The emerging number of satellites entering into lower-Earth orbit is becoming an evermore prevalent issue for astronomy researchers.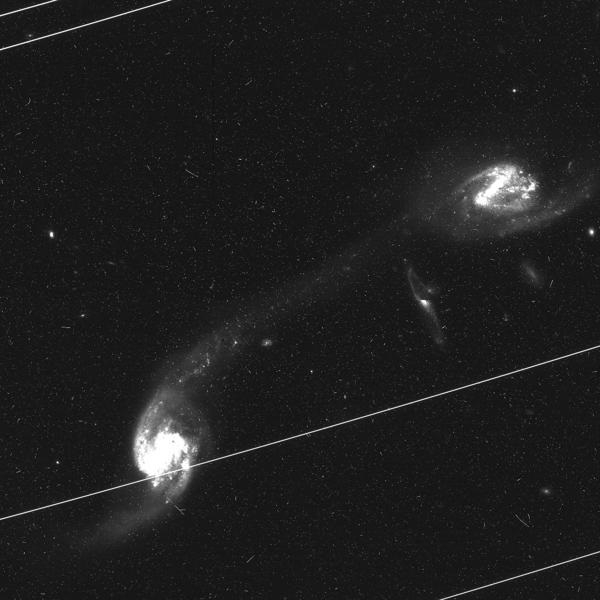 A new study published in the peer-reviewed journal Nature Astronomy on March 2, 2022, has looked at how the growing number of satellites in low-Earth orbit is impacting astronomical research, in particular, scientific work conducted by NASA's Hubble Space Telescope. The team found that satellites such as SpaceX's Starlink constellations are regularly photobombing Hubble's images, and the frequency of these photobombs is only growing.
The above image shows a photobombed image. The white lines streaking across the image are a result of a satellite passing from one side of the frame to the other. In some instances, the photobombing is so bad that the image cannot be used for scientific research. In other instances, organizations are having to exponentially pay for images to be fixed and other means of mitigation. The study was led by Sandor Kruk, who looked at data acquired in 2021 to acquire the overall results.
Notably, since 2021 there have been thousands more satellites in low-Earth orbit, with at least dozens being released every month. More specifically, Starlink launched 1,500 satellites in just 2022, and according to Samantha Lawler of the University of Regina, who shared data from CelesTrak, there are currently 5,913 satellites in low-Earth orbit.
"Starlink is absurdly large both numerically and in total mass compared to anything that's ever been in orbit before," said Samantha Lawler
So, who is mostly responsible for these photobombings, and what can be done about it? Of those 5,913 satellites in low-Earth orbit, 62% are SpaceX's Starlink satellites. However, it isn't just the sheer number of satellites that are messing up Hubble's observations. The space telescope has actually reduced its altitude over its 33 years of service from about 380 miles above Earth's surface when it was first put into orbit to about 330 miles, which is what it's currently sitting at.
"We're going to be living with this problem. And astronomy will be impacted. There will be science that can't be done. There will be science that's significantly more expensive to do. There will be things that we miss," said Jonathan McDowell to the New York Times.
The dip in Hubble's altitude has caused it to drop below many satellites and orbit below them, resulting in an increasing number of satellite appearances in its photographs. This detail was outlined by Jonathan McDowell of the Harvard-Smithsonian Center for Astrophysics, who took to Twitter with two graphs; one showing the altitude drop by the Hubble Space Telescope over time and another showcasing Starlink satellite altitudes.
So, how can this be fixed? SpaceX has proposed boosting Hubble back to its original altitude, which would put it above Starlink and most other satellites in low-Earth orbit. However, this doesn't solve the problem for ground-based telescopes.