We're all very familiar with the idea of wirelessly charging our phones, watches, and earbuds but have you ever considered wirelessly charging your car?
That obviously only applies to people who have electric vehicles, but wireless charging would fix one of the bigger problems with owning an EV - having to plug it in all the time. Now it appears that Tesla is working on fixing that with some sort of wireless charging technology.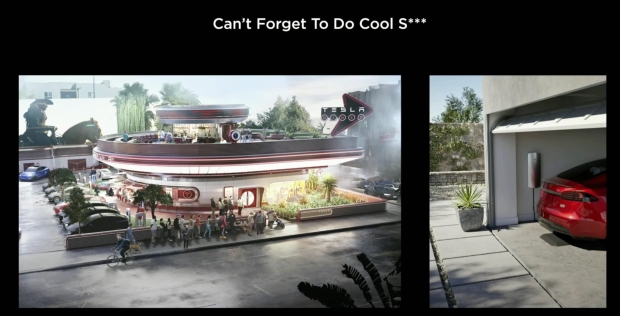 While Tesla hasn't confirmed that it's working on anything of the sort, the company might have teased something during this week's Investor Day.
Viewers were treated to a presentation about charging by Rebecca Tinucci, head of global charging infrastructure. And while much of it won't pique too much interest, one slide very much did. One half of it showed what appears to be the Tesla Diner that is being built in California. But the other showed a Tesla EV parked in a garage with what appears to be some kind of wireless charging pad beneath its rear.
Tinucci didn't say explicitly what was happening in the slide, but one quote says that she said that the company was "focused on providing incredible charging experiences." Make of that what you will, but we're absolutely here for it.
Of course, wirelessly charging a phone already takes a lot of energy and wastes it as heat. Plus it's slower than plugging in a cable. We can expect similar constraints when wirelessly charging a car, but magnified because of the much larger battery. Still, if there's one thing we know about Tesla it's that it can do almost anything when it sets its mind to it.
Except for ship cars on time, that is. We're looking at you, Cybertruck and Roadster.