id Software's Doom from 1993 is an iconic release; arguably, it helped create and foster a brand-new game genre in the form of the first-person shooter. I know, Wolfenstein 3D came out first, and for many, that was the game that introduced them to the FPS, but Doom was a monster hit that spawned so many first-person shooters that instead of FPS, we called them "Doom clones."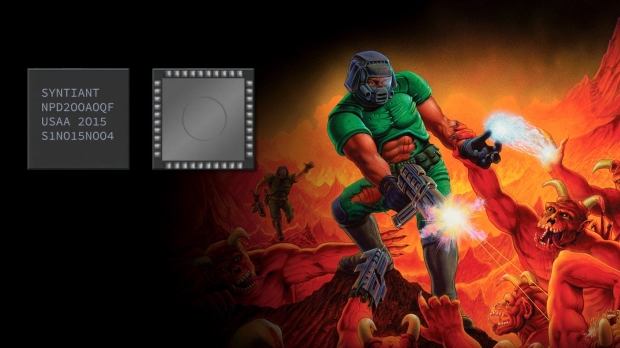 The iconic status of the game is one of the reasons why it's become something of a meme to get the game running on hardware ranging from a calculator to a smart fridge and more. Syntiant's NDP200 (Neural Decision Processor) is an ultra-low power chip for AI with 26 GPIO pins and up to 100MHz speeds. And with that, its neural network was trained using VizDoom (a custom version of the game built for AI research) for a reasonably standard shooting sequence in the Doom style.
And it does so by drawing just 1 Milliwatt of power. That's 1/1000 of a Watt. This makes the GeForce RTX 4080's 320W over 300,000 times more power than what we see here, and that's pretty remarkable. Check it out in the video below.
Syntiant's NDP200 is built for low-power tasks, and this is an excellent example of its "bounding-box person detection" capabilities. In fact, this little Doom presentation might be fun, but it's also great marketing. The chip is presented as something that "performs vision processing with highly accurate inference at under 1mW." Being able to do that standard Doom thing of shooting demons with such a low power draw is a testament to how far we've come with AI hardware.