The HPE Spaceborne Computer 2 is a cutting-edge piece of computing equipment with AI-enabled systems that can handle complex scientific tasks and help process data without sending all those bits and bytes down to Earth. Yep, the HPE Spaceborne Computer 2 lives up to its name as a computer aboard the International Space Station (ISS).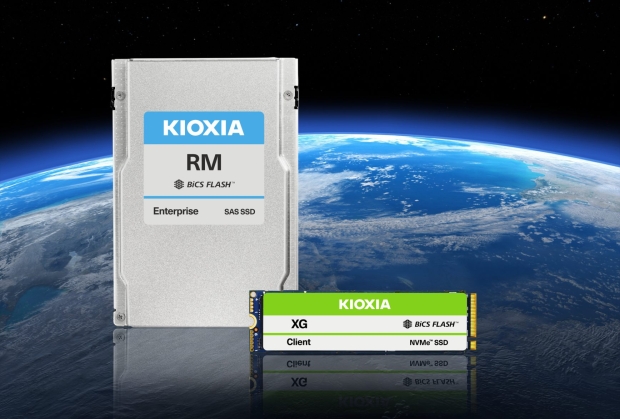 It's the first in-space edge computing system on the ISS, a remarkable bit of engineering that benefits from the technological advances made in recent years. And with that, HPE (Hewlett Packard Enterprise) has partnered with KIOXIA America, Inc. to provide all required storage in the form of advanced SDD technology for the HPE SBC-2 system, which includes a rugged, compact computer system and a high-performance HPE ProLiant server.
It's the sort of system that has already proven itself by advancing progress in fields like healthcare, 3D printing, natural disaster recovery, and more. Putting something like that into space is another level entirely, with KIOXIA supplying both KIOXIA RM Series Value SAS and KIOXIA XG Series NVMe SSDs for use in space science. Aka complex research. KIOXIA is no stranger to flash memory, the company invented NAND flash as we know it, so it makes sense that its SSDs would be sent into space. Being at the forefront of consumer and enterprise applications for years, it certainly sounds like space is the next frontier for KIOXIA.
KIOXIA is a leader in 3D Flash Memory technology, and it's the sort of storage (compared to previous SSD and SATA-based hard-drive technology) that makes data processing in space possible. It's almost tailor-made for space travel, thanks to no moving parts and low power requirements. Being less susceptible to electromagnetic waves also helps.
"Proving that data center-level compute processing can successfully operate in the harsh conditions of space will truly take something special," noted Scott Nelson, executive vice president, and chief marketing officer for KIOXIA America, Inc. "The synergies that exist when KIOXIA and HPE collaborate to leverage our respective technologies, allows us to explore and study at the very edge of scientific discovery. We can't wait to see where the HPE Spaceborne Computer journey takes us."
"By bringing KIOXIA's expertise and its SSDs, one of the industry's leading NAND flash capabilities," added Jim Jackson, Chief Marketing Officer at HPE. "With HPE Spaceborne Computer-2, together we are pushing the boundaries of scientific discovery and innovation at the most extreme edge."
This is not only great news for research aboard the ISS, the HPE SBC-2 system will no doubt serve as the blueprint for computing in the future of space travel.