As part of Apple's iOS 16 update, it introduced the ability for users to edit recently sent messages on the iMessage platform as a nice little feature for those of us that put too much faith in autocorrect. It set a 15-minute time limit, but it proved to be a very welcome addition, in addition to reducing the need to send a quick follow-up message correcting that the word 'boobs' was actually 'books.' Like, "I want to borrow a few books."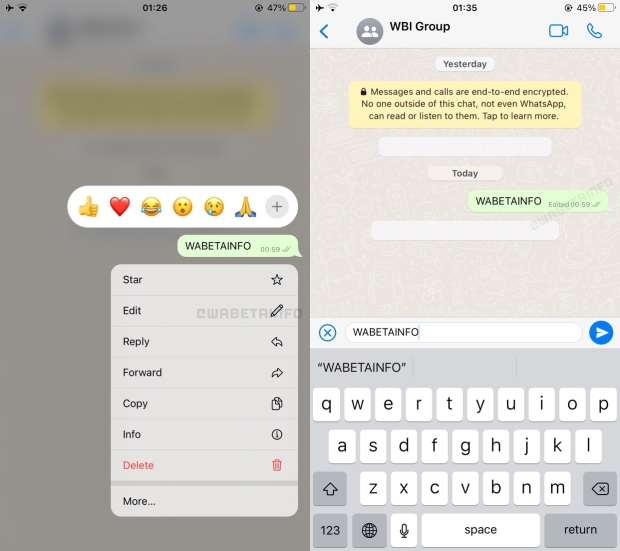 And now it looks like WhatsApp is adding the edit feature, as it has been spotted in a new beta via wabetainfo.com. As per the screenshot, an edited message gets an 'edited' tag - which is excellent, and like the Apple version of the editing feature, users will be limited to a 15-minute window to make any changes.
As the first version of the editing feature, it's limited to messages, though editing image and video captions and documents are expected before release. Or further down the line.
WhatsApp has recently been rolling out picture-in-picture support for video calls on iOS too, which allows users to keep using their phone while chatting using a smaller window. So it's good to see that the Meta-owned chat app continues evolving in the age of competitors like Signal and Telegram.
There's no expected release timing for the new WhatsApp 'edit a message' feature, though if it's already in Beta testing, it's pretty far along in development. Unfortunately, it seems that it might be limited to iOS devices, as there's no word on whether the editing functionality will make its way to Android. This means those of us on Android phones are ship out of luck. Or shit out of luck. If only there were a way to edit that.