A fresh version of Google's Chrome browser has just been pushed out, and there's some good news for laptop owners in the form of a pair of new features that have just gone live.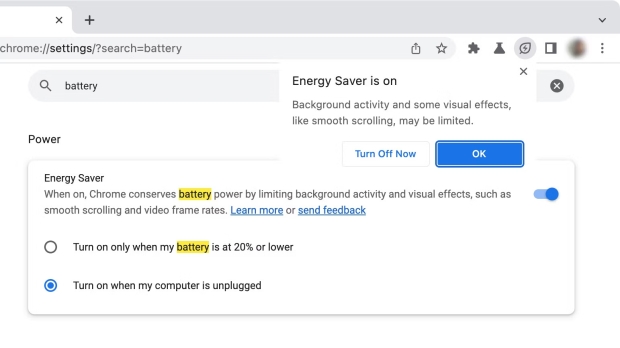 These aim to extend the battery life of a notebook, and they're called Memory Saver and Energy Saver, with both now rolling out to those using Chrome version 110 on the desktop.
As you may be aware, Chrome has long held a reputation for taking up too much in the way of system resources - and therefore draining battery life for those running the browser on a notebook - so this is part of Google's fightback against that perception.
Memory Saver is for the tab-happy types out there. When enabled, this functionality prioritizes the tabs you're actively using with system resources, and snoozes inactive tabs, thereby freeing up RAM that would otherwise be utilized by the latter. When you go back to an inactive tab, it is, of course, quickly made active by the browser.
As for Energy Saver, when turned on, this lowers power consumption (and therefore saves battery) whenever your laptop isn't plugged into the mains, or alternatively, when you hit a low battery level (20%) - you can choose either option.
This keeps the battery going by turning off some background activity, dispensing with visual niceties (like smooth scrolling), and when playing video, the browser will dial back the frame rate. All of these measures put less strain on the CPU and other components, saving your battery, but you do, of course, have to put up with slightly choppier frame rates when watching a YouTube clip, for example.
Still, better that than have your laptop run out of juice before you find out 'whodunnit' at the end of the episode of a murder mystery you're streaming.
These features are turned on by default, so bear that in mind - if you're not keen on them, you'll have to pop into Chrome's settings and switch them off. And it's worth noting that you don't get Energy Saver on a desktop machine, of course - there's no battery to save. But Memory Saver is present on desktops to help prevent Chrome from doing its famed resource-hogging antics.
Battery life is one of the top priorities folks consider when looking at which laptop to buy, so any fresh avenue that offers a boost on the longevity front is most welcome.
Google isn't the first browser maker to try these kinds of energy and resource saving tricks, mind you. Microsoft Edge brought in a system that put unused tabs to sleep, waking them up when clicked on, back in April 2022, almost a year ago now.