The head of the Radeon Technologies Group, David Wang, and other senior AMD people recently sat down with the publication 4Gamer (translated by Wccftech) to discuss the future of RDNA graphics. Naturally, this resulted in some hints about what we might expect regarding RDNA 4 GPUs. AI will be a big part of the picture alongside continued efficiency and performance improvements.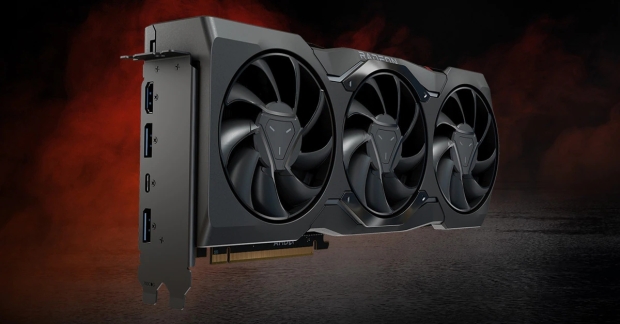 Late last year saw the arrival of the RDNA 3 powered Radeon RX 7000 series with the Radeon RX 7900 XT and the Radeon RX 7900 XTX. And with more laptop and lower-tier desktop models set to launch this year, it's crazy to think that 2024 will usher in the next generation of Radeon GPUs. One key technology in RDNA 3 is its Multi-Draw Indirect Accelerator for mesh shading, a replacement for the Level of Detail rendering that saw massive improvements compared to the RDNA 2 generation. AMD sees technology like this becoming a new standard in the future.
In terms of dedicated AI hardware, AMD is impressed with NVIDIA's Tensor cores and technology like DLSS (noting that its FSR upscaling achieves similar results without the need for AI hardware), and it wants to see RDNA's AI acceleration used in other applications. Some examples include NPC behavior and movement, which is the natural next step for AI in game development.
FSR's anti-aliasing and super-resolution processing [was] realized without using an inference accelerator to provide performance and quality that can fully compete with NVIDIA's DLSS. The reason why NVIDIA is actively trying to use AI technology, even for applications that can be done without using AI technology, is that NVIDIA has installed a large-scale inference accelerator in the GPU.

That's their GPU strategy, which is great, but I don't think we should have the same strategy. We believe that accelerators implemented in gamers' GPUs should be used to make games more advanced and fun.

- Head of the Radeon Technologies Group, David Wang, translated via Wccftech
It's worth noting that there are rumors that AMD's DLSS 3-like Frame Generation technology will leverage AI and might require AI acceleration and be limited to RDNA 3 graphics cards.
And it sounds like RDNA 4 is on schedule with Rick Bergman, AMD's EVP of Computing & Graphics Business Group, adding that RDNA 4 is set to arrive in the "near future" with a promise that it will deliver even higher performance than RDNA 3. That's to be expected obviously, but the impression is that the improvement will be bigger than the jump from RDNA 2 to RDNA 3. Regarding hardware details, we can only speculate about things like process nodes and overall architecture. Still, odds are RDNA 4 will further evolve AMD's move towards a chiplet design which is very exciting.