NVIDIA Founder and CEO Jensen Huang is set to present the keynote address for the 2023 Graphics Technology Conference (GTC). No doubt he'll be sporting a leather jacket. He will talk about the latest developments in the world of AI, the metaverse, and potentially GeForce and workstation graphics built on the company's latest Ada Lovelace architecture.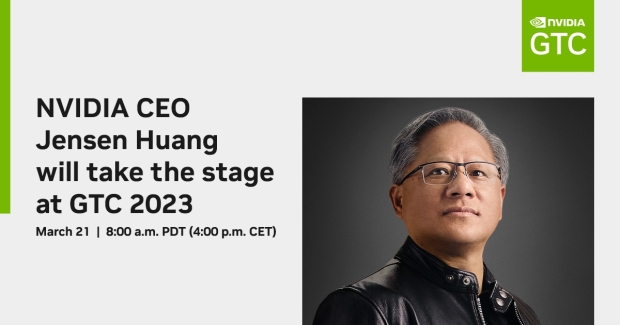 The description sounds like it will be light on anything relevant to PC gaming, with Jensen Huang set to talk about "how NVIDIA's accelerated computing platform is driving the next wave in AI, the metaverse, cloud technologies, and sustainable computing." The GTC keynote is scheduled to occur on March 21, 2023, at 8 am PDT (4 pm CET).
It kicks off three days of panels and discussions, with talks and panels covering topics like AI being used for scientific discovery and as a tool to help create and build 3D worlds. There's also a panel on quantum computing and how this will change the supercomputer landscape. Ilya Sutskever, co-founder and Chief Scientist at OpenAI, will be there alongside people from DeepMind, Adobe, Meta, IBM, and more.
Last year's event in September paved the way for a big focus on gaming, with a reveal for the GeForce RTX 40 Series as part of a special 'GeForce Beyond' segment -this year's schedule doesn't look like it'll have anything similar. With NVIDIA still set to launch lower-tier models in the GeForce RTX 40 Series, including the likes of the RTX 4070 and RTX 4060, alongside more RTX Ada workstation GPUs, we might get some new info if the release dates line up.