By now we're well-used to Microsoft trying to get people to adopt its Edge browser in Windows 10 and Windows 11, but the software giant has set its sights on iPhone users too, according to a new report.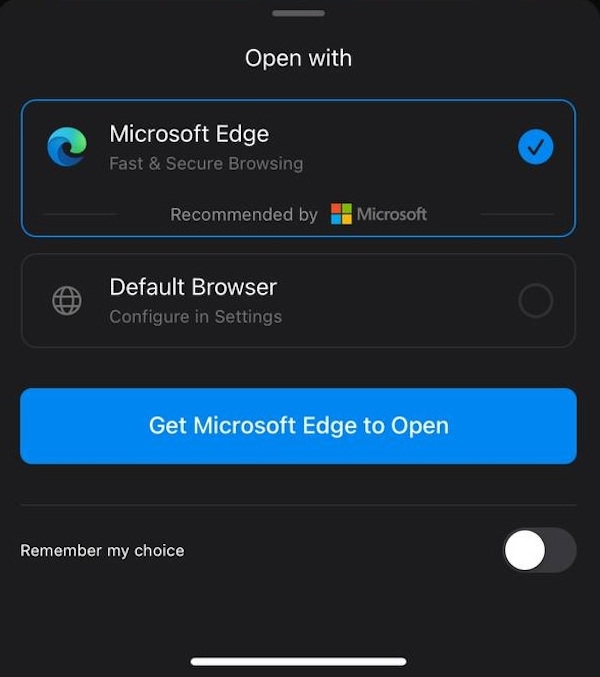 This comes from Windows Latest, who spotted that when opening a link from Outlook, Microsoft's email client, in iOS, users are being confronted by a pop-up asking if they'd like to open that link in Edge (rather than Safari, or whatever their default browser may be).
Now, you can choose to open with 'default browser' and also tick a box to remember this selection so the pop-up doesn't happen again - except the catch is that you'll need to do this separately for different file types when opening attachments in your emails.
So, that's a bit of extra hassle, and of course, you shouldn't be hit with a prompt to open things in Edge at all.
How many folks are affected by this? Windows Latest believes this prompt has been rolled out to all Outlook users on iOS.
It's expected that Microsoft will use these tactics in Windows, as we mentioned at the outset, but this is the first time we've heard of the idea being employed for iOS.
Windows users have long complained about pop-ups and prompts to use Edge. Indeed advertising sneaked into the OS pushing Microsoft services (not just Edge, but OneDrive, and more recently the company has been busy nagging Windows 10 users to upgrade to Windows 11, if their PC is compatible).
This sort of heavy-handedness is something we could all live without, frankly, and certainly the repetition involved with some of this badgering - like the three screens Windows 10 users must face insisting they should upgrade - really isn't pleasant.