With Intel recently entering the discrete GPU market with its Intel Arc range, a fourth challenger to NVIDIA's dominance in the GPU space has arrived in China via a company called Moore Threads. This is a significant development for the consumer GPU space and PC gaming, especially in Asian markets where player bases are both huge and increasing.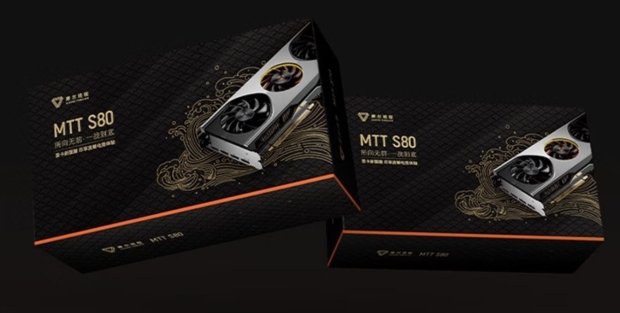 The GPU in question is the MTT S80, a second-generation Moore Threads card based on the MUSA architecture with 14.4 TFLOPs of performance, 16GB of GDDR6, and a 256-bit memory bus. Those numbers should put its performance somewhere between the GeForce RTX 3060 and 3060 Ti. Plus, you'd expect decent performance with a 250W power rating, triple-fan cooling, and it being the first GPU to offer PCIe Gen5 support.
Well, that was the expectation. A new review by South Korean outlet BullsLab shows it lagging even the GeForce GT 1030. A passively cooled 30W GPU with 2GB of VRAM and a 64-bit memory bus. Yeah, not a good sign.
Naturally, this points to something wrong in the driver and DirectX departments, reflected by gameplay footage showcasing GPU usage at around 50%. Losing out so severely to the GeForce GT 1030 means in-game performance is even worse compared to one of the most popular and still viable GPUs - the GeForce GTX 1060.
It only seems to "work" with DirectX 9 gaming, with the advertised DirectX 11 support not working. This is why the tests include games like League of Legends, CS:GO, StarCraft II, and Lost Ark.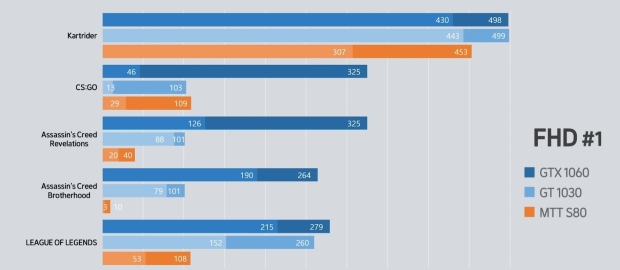 In League of Legends, the MTT S80 hit an average fps of 108 compared to the GeForce GT 1030, hitting 260 fps, and the GTX 1060 at 279 fps. Assassin's Creed Revelations struggles on the MTT S80 at 40 fps compared to the GT 1030 hitting a 101 fps average, while the card can barely top 30 fps in both StarCraft II and Skyrim. It's brutal.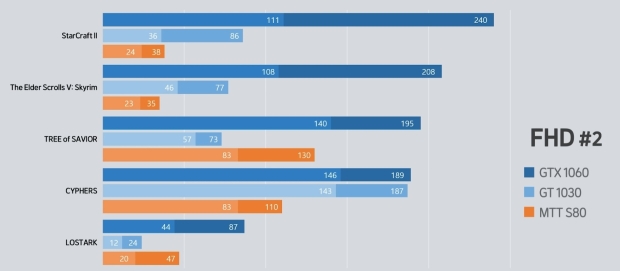 There are exceptions, with the MTT S80 performing better than the GT 1030 in games like CS:GO and Lost Ark - but even here, it loses out big time compared to the GTX 1060. Even the installation process was painful, with BullsLab noting that the GPU only works with certain motherboards and displays. It also doesn't feature AV1 decoding with YouTube and idles with high power usage.
No doubt Moore Threads has an uphill battle to fix many of these issues and add compatibility with driver updates, and who knows, it might turn things around ala Intel with its impressive updates to the Arc GPU range. Time will tell.