A new report covering motherboard shipments from four of the biggest names in the game - ASUS, GIGABYTE, MSI, and ASRock - has revealed that 2022 was a devastating year. According to DigiTimes (via Tom's Hardware), citing supply-chain sources, there was a decline of around 10 million in motherboard shipments compared to the previous year.
The usual suspects of economic downturns and a post-pandemic slump are listed as the reasons, which is in line with recent reports about overall PC shipments seeing a similarly massive decline in 2022.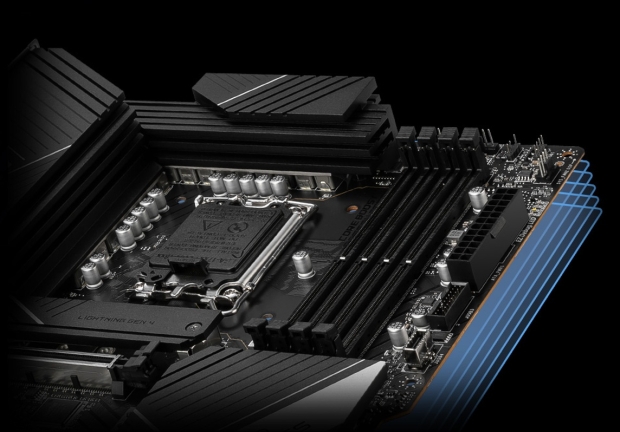 Even though 2022 saw the release of new CPUs from Intel and AMD, with the latter introducing a new motherboard chipset in the form of AM5, it wasn't enough to cover the shortfall in demand for new PC hardware.
The report shared figures for shipments for the four big brands, covering shipments in 2021 versus 2022. ASRock saw the most significant decline, with 6 million units in 2021, falling to just 2.7 million in 2022 -around 55%. Next was MSI, with a drop of 42% (9.5 million units in 2021 versus 5.5 million in 2022), followed by ASUS, with a decline of 25% (18-plus million units in 2012 versus 13.6 in 2022). GIGABYTE saw a comparatively minor impact, but still considerable, with a drop of 14% - 11 million units in 2021 compared to around 9.5 million in 2022.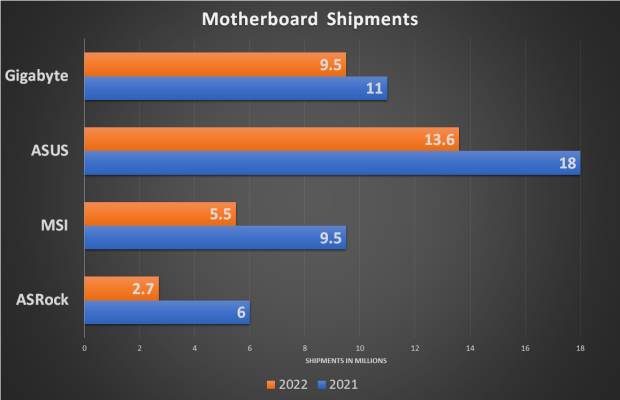 No doubt this report raises concerns for motherboard shipments in 2023, though with AMD offering a broader range of Ryzen AM5 CPUs - including the highly anticipated Ryzen 7000 X3D range - here's hoping the market bounces back.