Sony has re-captured enough users to stabilize PlayStation Plus after losing nearly 2 million subscribers in the Q2 period.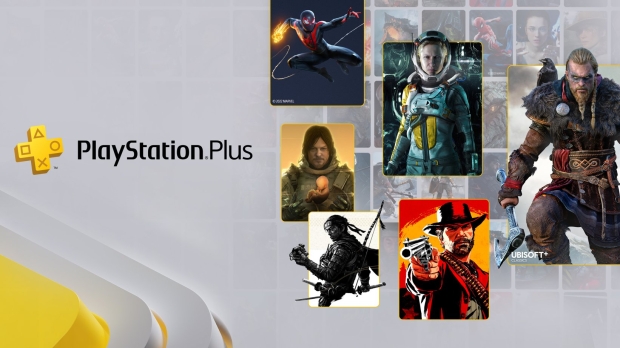 PlayStation Plus has bounced back. Sony just reported its best-ever Q3 period in the history of PlayStation with $8.8 billion revenues generated during the holiday 2022 period, and PS Plus numbers also surged by 1 million subscribers during the expansion point.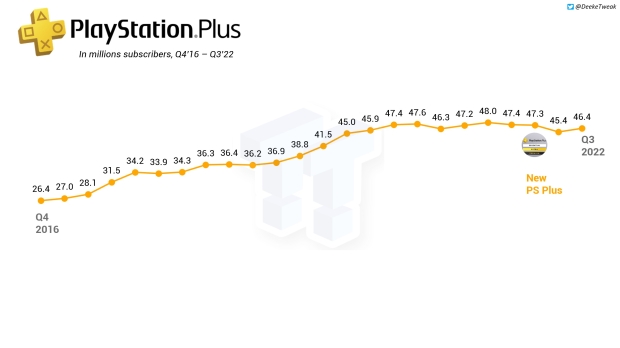 Sony has yet to recoup all of the 1.9 million PS Plus subscribers that it had lost throughout Q2, but did manage to pull in 1 million subscribers to push PlayStation Plus' total count to 46.4 million. These are hardly record numbers for the service--the current high for PS Plus was set in Q3 FY2020 with an all-time high of 47.6 million subscribers--but the quarter-over-quarter growth is quite important for Sony's long-term digital earnings.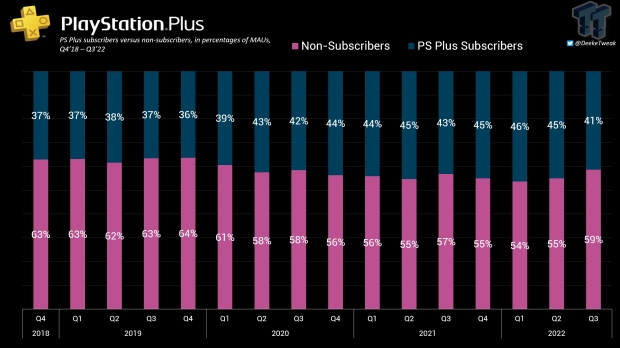 Most PlayStation 4 and PlayStation 5 gamers still aren't subscribed to PS Plus. However, this trend is nothing new and has been reflected throughout the fluctuations in quarterly subscriber counts. Our findings indicate that 59% of users are not subscribed to PS Plus, whereas 41% of PlayStation users are subscribed to the service.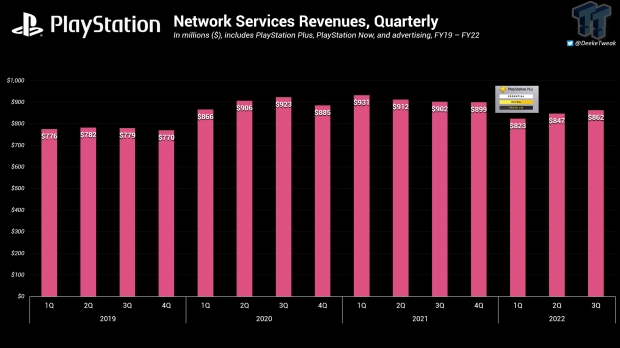 Based on numbers provided by Sony and converted using foreign exchange rates, the PlayStation games division made a strong $862 million from the Network Services segment, which primarily includes subscriptions and advertising revenue.
The current earnings record for Network Services is $931 million, which was set in Q1 FY2021. Earnings slid down to $823 million following the launch of Sony's three-tiered PS Plus service in Q1 FY22, which was the lowest point since before the pandemic started.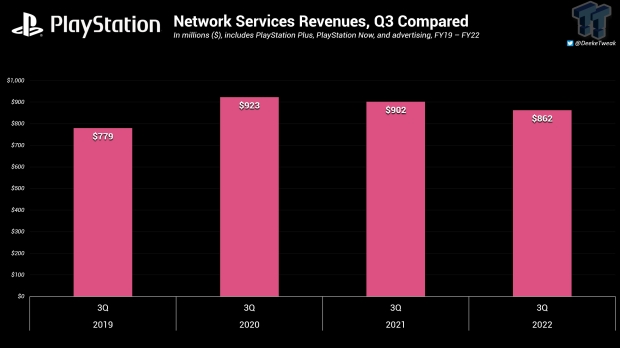 Sony is continuing its efforts to drive up subscribers by adding more valuable content to its three-tiered PS Plus offerings, including a bevy of first-party PlayStation 5 games available on its Extra and Premium tiers. Sony is also making the decision to end its popular PS Plus Collection bonus for PS Plus subscribers who own a PlayStation 5, likely due to licensing expirations.