NASA's Curiosity rover has been exploring the surface of Mars since 2012 and has just found evidence of Mars having a watery past.
NASA has taken to its blog on its website and its social channels to share a discovery by its Curiosity rover. According to the space agency, Curiosity team members believed that they'd seen the last evidence of ancient lakes covering the region the rover is currently exploring. The reason for the team's doubt was simply due to rock layers where Curiosity is station forming under much drier conditions than regions the rover has previously explored.
To researchers' surprise, Curiosity has now found the clearest evidence of Mars' watery past than it ever has in the past. Curiosity has been traversing the foothills of Mount Sharp since 2014, as NASA believes the 3-mile-tall mountain would have once had many streams and lakes, making it a rich environment for any ancient microbial life. NASA explains that Mount Sharp consists of layers ranging from the oldest at the base of the mountain and the youngest at the top.
As Curiosity makes its way up the mountain, its gathering information on the evolution of the landscape, allowing researchers to understand the evolution of the planet better.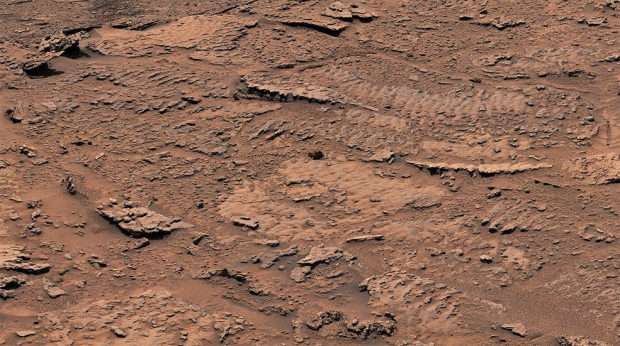 The above image showcases the Curiosity mission's clearest evidence ever discovered of ancient water existing on Mars.
"Billions of years ago, waves on the surface of a shallow lake stirred up sediment at the lake bottom. Over time, the sediment formed into rocks with rippled textures that are the clearest evidence of waves and water that NASA's Curiosity Mars rover has ever found," writes NASA.