NASA's James Webb Space Telescope has captured an image of an asteroid that's approximately the size of Rome's Colosseum.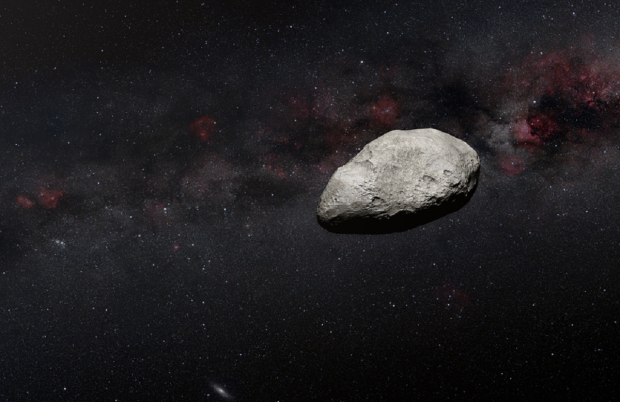 An international team of European astronomers has used Webb's Mid-Infrared Instrument (MIRI) to detect an interloping asteroid that's estimated to be anywhere between 300 and 650 feet wide, or approximately the size of Rome's Colosseum. While that may sound like a large asteroid, NASA writes that this object is likely the smallest object Webb has observed so far and could be a great example of an object that measures under 0.6 miles that resides within the main asteroid belt located between Mars and Jupiter.
Webb's observations of the asteroid were published in the scientific journal Astronomy and Astrophysics, where it's explained that the asteroid was detected while Webb was performing calibration testing for its MIRI instrument. Researchers pointed the MIRI instrument at the main belt asteroid 1998 BC1 and began taking calibration images. According to NASA, these tests failed for technical reasons such as brightness and the telescope not being pointed at the right target.
"We - completely unexpectedly - detected a small asteroid in publicly available MIRI calibration observations. The measurements are some of the first MIRI measurements targeting the ecliptic plane, and our work suggests that many new objects will be detected with this instrument," explained Thomas Muller, an astronomer at the Max Planck Institute for Extraterrestrial Physics in Germany.
Despite the failure of calibration, NASA was able to capture data on the small asteroid, with NASA writing that these findings demonstrate that even "failed" Webb observations can yield interesting results. It should be noted that MIRI data on the asteroid was combined with data acquired by the ESA's Gaia mission as well as ground-based telescopes.
Furthermore, NASA writes that Webb's accidental observations of the asteroid show that Webb will be able to contribute to the detection of new asteroids while also observing other targets. As for the asteroid itself, NASA writes in its blog post that its discovery will have important implications for the current models humans have of the solar system and how asteroids play an important role in its evolution.
"Our results show that even 'failed' Webb observations can be scientifically useful, if you have the right mindset and a little bit of luck. Our detection lies in the main asteroid belt, but Webb's incredible sensitivity made it possible to see this roughly 100-meter object at a distance of more than 100 million kilometers," elaborated Muller.
Since Webb has detected an asteroid that is quite small when compared to other asteroids floating around in the cosmos, NASA believes that Webb's observations will now allow astronomers to study asteroids that have a diameter smaller than 1 kilometer in size, allowing for more information to be gathered on small asteroids that have otherwise had sparing research conducted on them.
NASA writes that follow-up observations on the asteroid are needed to confirm its specifics, such as its true diameter, its position, and its orbit. According to the space agency, these follow-up observations are currently being scheduled.
For more information on this story, check out the following link here.