This new DROP collaboration with The Lord of the Rings is what dreams are made of if you're a fan of the Tolkien books - and Peter Jackson-directed movies. Maybe even the new Amazon series, though I haven't seen that yet. What you've got here is a collection of premium mechanical keyboards decked out with custom keycaps in Middle-Earth languages. Plus, some artisan wrist rests and even some funky artisan keycaps that look fantastic.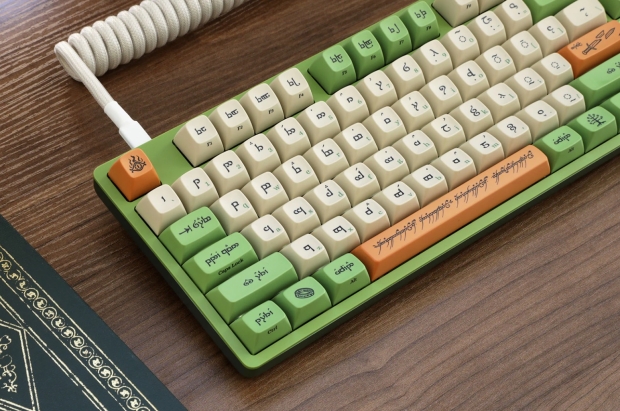 The mechanical keyboards come in Dwarvish, Elvish, and evil Black Speech styles. The latter is a brand-new entry into the collection, with the keycaps featuring Black Speech characters instead of English lettering. Which we assume would make it dangerous to talk and type at the same time. Not to mention having the piercing Eye of Sauron sitting there all menacing above the arrow keys.
The Dwarvish and Elvish keyboards also feature keycaps written in their respective Middle-Earth languages, giving all three keyboards the look and feel of gaming peripherals that Frodo, Gimli, and Aragorn might use if PC gaming was a thing in Middle-Earth. The TKL designs are impressive, too, with Holy Panda X Switches, ENTR baseboards, and Drop Phantom Stabilizers. The keycaps themselves are also being offered as separate sets.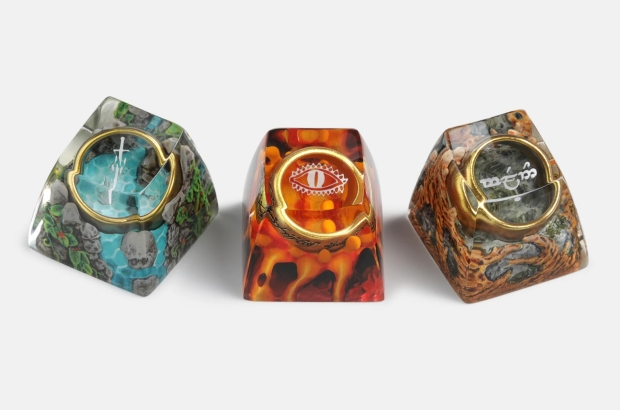 The real prize in the collection, which is to be expected when it comes to The Lord of the Rings, is The One Ring Artisan Keycap Set. Three versions of The One Ring, one in Mordor, one in Anduin, where Smeagol discovered it, and one in the enchanted land of Lothlórien - home to Galadriel and Cate Blanchett.
Each has been handcrafted in Resin and is compatible with all Cherry MX switches. For more details on this incredible collection, head to the following product pages. Current pricing is also listed.