NVIDIA's AD106 chip from its new Ada Lovelace GPU range is rumored to power the GeForce RTX 4060 graphics card, which has yet to be formally revealed. According to a new listing and 3DMark benchmark results (via Chiphell), the AD106 GPU from NVIDIA boasts 4608 CUDA Cores, a 2535 MHz boost clock, a 128-bit memory bus, and a power rating of only 180W.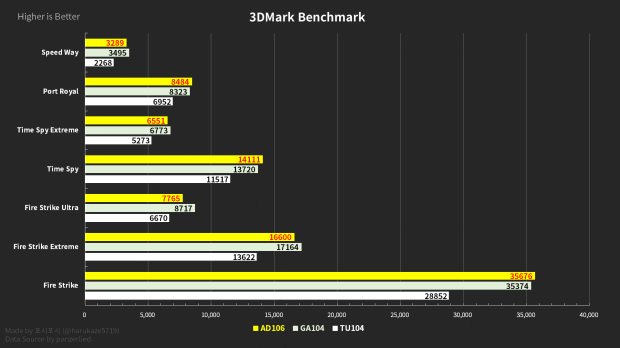 The benchmark results compare the chip to GA104 (the GeForce RTX 3070 Ti) and TU104 (the older GeForce RTX 20 Series). And based on the results, it looks either faster or slower than the GeForce RTX 3070 Ti, depending on the test. DirectX 12 and raytracing look to be the clear winner. Still, the big takeaway is that the generational jump means that the level of performance for the NVIDIA GeForce RTX 4060's AD106 will be RTX 3070 Ti at around 27% less power.
Harukaze5719 on Twitter has posted the results in a handy chart you can see here, where apparent wins in 1080p and 1440p tests like FireStrike and TimeSpy showcase that NVIDIA will be positioning AD106 GPU products as mainstream. As x060 class GPUs from NVIDIA are always the most popular, it will be interesting to see what price point the RTX 4060 eventually hits.
With both NVIDIA and AMD set to launch their new mainstream cards this year and Intel aggressively pricing its Arc line-up, we could be in for an exciting battle for the affordable 1080p gaming crown. No doubt NVIDIA will also leverage tech like DLSS and the new DLSS 3 Frame Generation to sell the RTX 4060 and AD106, with the benchmarks seen here only covering rasterized results.