In an interview with Fox News, Dave Rubin, a conservative journalist, and Fox commentator described his experience while taking a 48-hour tour of Twitter's headquarters in San Francisco.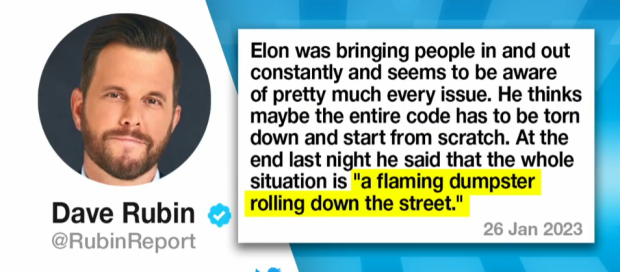 Rubin appeared on Fox News and discussed various aspects of Twitter and what happens behind closed doors at the company. According to the interview Twitter CEO and owner Elon Musk invited Rubin to the headquarters, and Rubin discussed various topics with Musk, such as what makes Twitter shadow-ban accounts, the current state of the underlying code, and how much work needs to be done to get Twitter where Musk wants it to be.
Throughout the interview, Rubin said that Musk was pretty much aware of every issue the company has, and he maybe thinks that the "entire code has to be torn down and start from scratch". Additionally, Rubin said at the end of the night, Musk described Twitter as a "flaming dumpster rolling down the street".
Furthermore, Rubin said during the interview, "I gotta tell you, after being in San Francisco for 48 hours, a 'flaming dumpster rolling down the street' was pretty much the exact right metaphor."
"The way code works, as he described to me, I know not all your viewers are coders, nor am I, but you're basically looking at a tiramisu layer cake. And as you fix one layer, and then you realize how many other problems are under it and you may have screwed something up," said Rubin.
For more information on this story, check out this link here.