A show called 'Nothing, Forever' runs 24/7 on Twitch using OpenAI's GPT-3 model to generate endless episodes of the hit sitcom Seinfeld. Visually it looks like an early 3D game that might have appeared on the original PlayStation or a 3dfx Voodoo PC from the 1990s.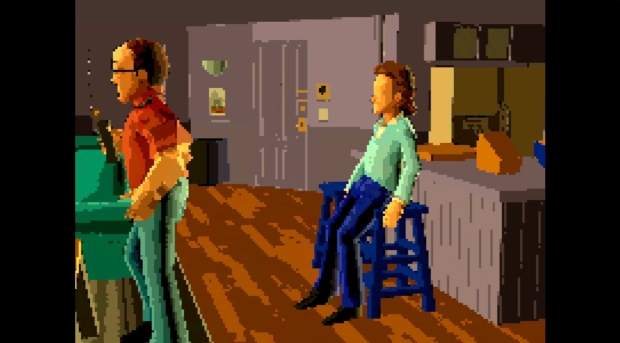 And with the AI-generated jokes and dialogue being of the "very weird" and "strange" type, the stilted animation gives the whole thing a dreamlike quality. This is probably why thousands are tuning in to watch.
If you're a fan of Seinfeld, you'll no doubt be familiar with Jerry's apartment as the backdrop for many interactions, not to mention the crude renditions of Jerry, George, Elaine, and Kramer. Except here, Jerry is called Larry, in a nod to Seinfeld's co-creator Larry David. There are even stand-up comedy interludes ala the show, but these sound more like bizarre stream-of-consciousness observations than actually funny jokes.
Here's the official description.
Nothing, Forever is a show about nothing, that happens forever. Kinda like popular sitcoms of the past, except that it never stops.

Nothing, Forever is always-on, runs 365 days of the year, and delivers new content every minute.

Everything you see, hear, or experience (with the exception of the artwork and laugh track) is always brand new content, generated via machine learning and AI algorithms.
Many conversations between characters are inane, talking about everyday things in a dry way reminiscent of Seinfeld's 'Show About Nothing' structure, except without the comedic element that has made it one of the most popular and well-known comedies. One example included Jerry and Elaine talking about vegan cheesesteaks with a laugh track, except it wasn't funny. The fun comes from reading the chat and seeing people's responses to AI-generated episodes of Seinfeld.