NVIDIA provided an engineering sample of the new GeForce RTX 4090 laptop GPU to Jarrod'sTech to compare it to the last gen laptop flagship, the GeForce RTX 3080 Ti laptop GPU. Although NVIDIA hasn't sponsored the video, it did provide both laptops, and the initial testing results are mainly limited to DLSS 3 performance in games. However, some impressive productivity results were also shown.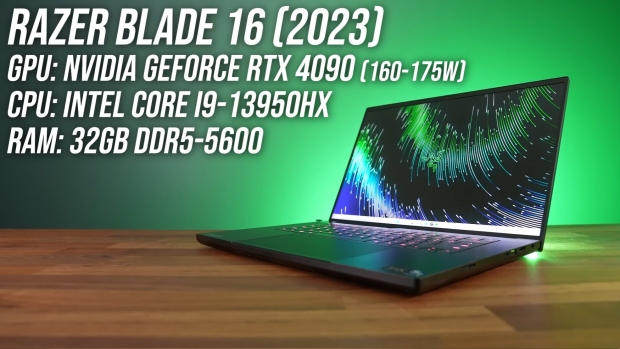 The RTX 4090 laptop featured in the video is the impressive Razer Blade 16 for 2023, which includes an Intel Core i9 13950HX CPU and 32GB of DDR5-5600 memory.
With DLSS 3 enabled, running five titles in 1440p - Portal with RTX, Microsoft Flight Simulator, A Plague Tale: Requiem, Warhammer 40,000: Darktide, and Cyberpunk 2077 - the performance increase compared to the GeForce RTX 3080 Ti laptop GPU is more than double. Going up to 2.6X in Portal and Flight Sim.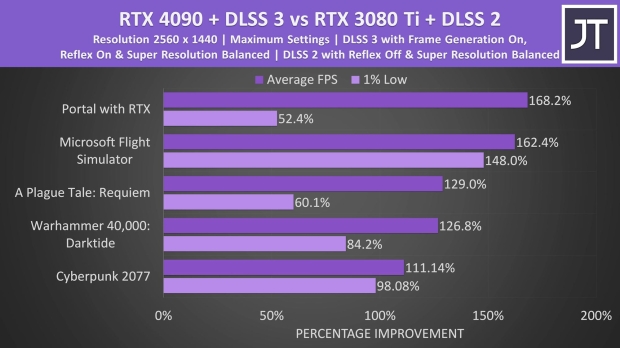 As DLSS 3 uses NVIDIA's new Frame Generation technology on top of DLSS 2's Super Resolution and NVIDIA Reflex and is exclusive to the GeForce RTX 40 Series, it's not a 1-1 comparison. The RTX 3080 Ti laptop is limited to DLSS Super Resolution.
The video notes this on a few occasions, though it rightfully points out that Frame Generation is an exciting tech for gaming laptops as it can push performance to crazy new levels. And for the most part, there's a significant reduction in latency, which is surprising (and very cool) to see.
Due to what we assume is an embargo, Jarrod's Tech is unable to show rasterization performance for the new GeForce RTX 4090 laptop GPU - so all we get to see are these DLSS 3 results. So we'll have to wait a bit longer before we get in-game performance without additional features like DLSS or visual effects like ray-tracing enabled.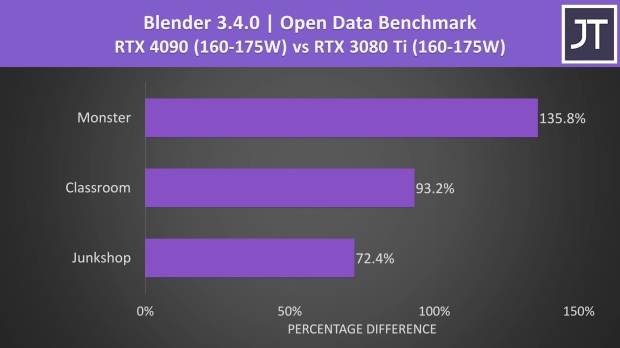 When it comes to content creation tests, though, we get to see just how big of a leap the new GeForce RTX 4090 laptop GPU presents. Blender's Classroom test sees a 2X performance increase compared to the RTX 3080 Ti laptop GPU, which bumps up to an impressive 2.4X increase. Throw in the new dual NVENC encoders and AV1 video support, and the new GeForce RTX 40 Series laptops are set to boost portable creativity.
GeForce RTX 4090 and RTX 4080 laptops will begin shipping on February 8.